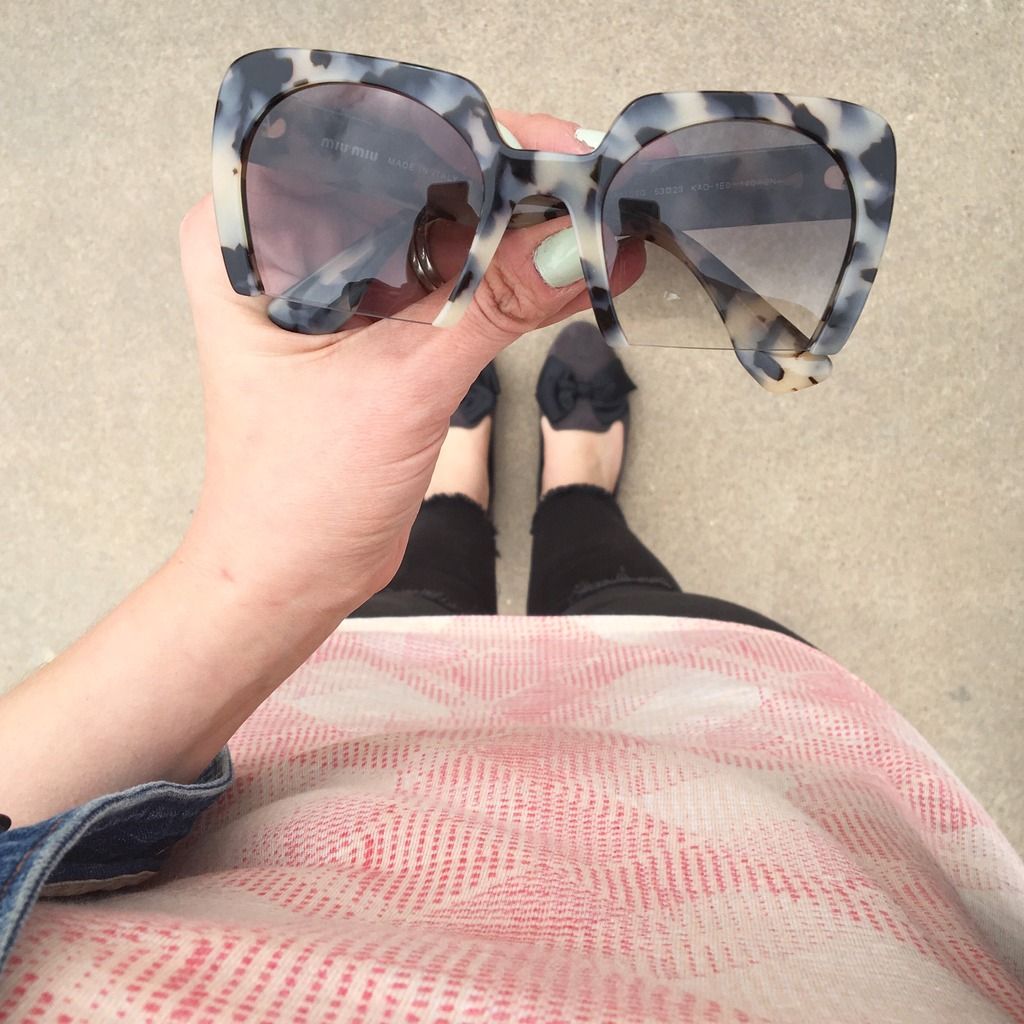 Yay for the weekend! Last weekend was so busy with Easter that I feel like it just flew by. I am hoping to slow things down a bit this weekend, relax, and get things done around the house (sounds super fun, I know!) Things have been a bit slow here on Middle of Somewhere, but I have a lot of fun new spring outfit posts coming soon! In the meantime, here's what I'm loving this weekend:
1. Earlier this week I posted the above picture on my
Instagram
to show off my latest pair of sunglasses from
Ditto
. I am completely in love with my
Miu Miu sunglasses
and I already know that they are going to be hard to send back! The nice thing about Endless Eyewear is that I can hold on to them for as long as I want! If you haven't tried out Ditto before, Endless Eyewear is basically the Netflix for sunglasses – for $24 a month you can borrow any pair of designer sunglasses you'd like and swap them out at any time. You can try your first month free with the code
MIDDLEOFSOMEWHERE
.
2. Our new iMac! If you follow me on Snapchat (lindsayrutland), you will know that after waiting for years to take the plunge, my husband and I finally invested in the computer of our dreams. I have only ever owned PC's before, so trying to figure this thing out is a little tricky. I would love your suggestions on any tutorials that might help me out in the transition into the world of a Mac!
3. I'm always on the hunt for new foods to make for Harper, especially now that she's eating so much more… homegirl can EAT! I have been trying to find some more finger foods for her to have, and came across these
zucchini and carrot muffins
on Pinterest that look so good! You can check out the other ideas I've been
pinning on my baby food board
if you're a mama in need of some new recipes.
4. In addition to Snapchat, I also recently created a
Twitter account
. I realize I am really late to the party on both of these, but I was always hesitant to get into even more social media accounts that I need to keep up with. Even though Twitter is still a bit confusing to me, it's been fun to try to get the hang of it. I now realize that I sound
really
old because I am confused by my computer and Twitter (HA! Enter wide eyed emoji here)
5. I have a total black thumb, but every time spring rolls around I am motivated to try to plant flowers! A few years ago my husband and I went crazy and planted a TON of flowers in our front yard, only to be eaten by rabbits within a few weeks. This year we are really wanting to work on our backyard, and now I'm dying to create some vegetable planters. Of course I've been scoping out
Pinterest
for ideas. There are a ton of great resources, and some of my favorites include these how-to build a raised garden bed posts
here
and
here
.
What are you loving this weekend?