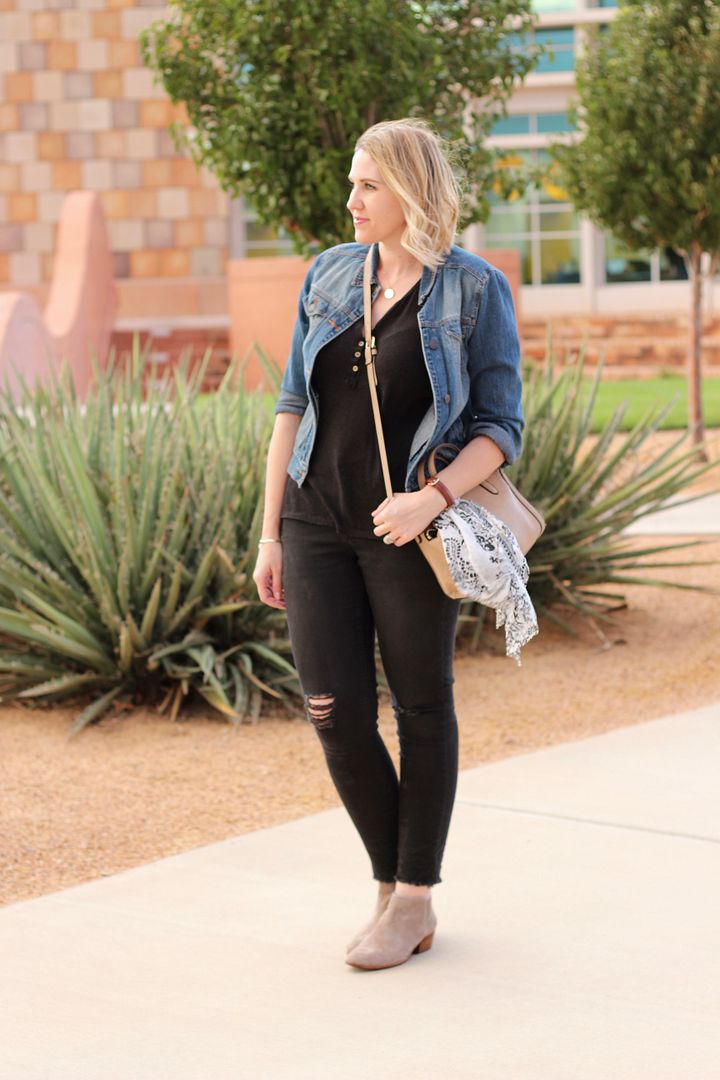 Happy Friday! I hope you had a great week so far, and are ready for the weekend like I am! Today Megan from The Fashionista Momma and I are sharing our favorite denim looks for The Weekly Style Edit link up, so of course I had to take advantage and incorporate double denim in my outfit! I'm sure you all know by now that I could basically live in denim, whether it's a pair of skinny jeans, boyfriend shorts for summer, or my favorite black distressed pair. I have actually had this denim jacket since high school (it's from Hollister, haha!), but it's just too good to let go of. It's perfectly broken in and so easy to throw on over pretty much anything. I'm also excited to finally break in my new pair of Sam Edelman boots that I have literally had on my wish list for years. I happened to find them on Amazon for $65, which seemed way too good to be true, but here they are! Be prepared to see them a lot around here.
What is your favorite piece of denim that you own?
Be sure to link up with Megan and I below, and come back to join us next week when we style fringe.





I'm also excited to announce I am a part of Links à la Mode for the week of September 29th:
SPONSOR:
Shopbop,
Saylor
,
Salvatore Ferragamo Clothing
,
Petersyn Tops
,
Rime Arodaky
,
Army By Yves Salomon
,
Spencer Vladimir
,
Sleepwear
,
Thigh High Boots
,
Leather Jackets
,
Men's Tomorrowland