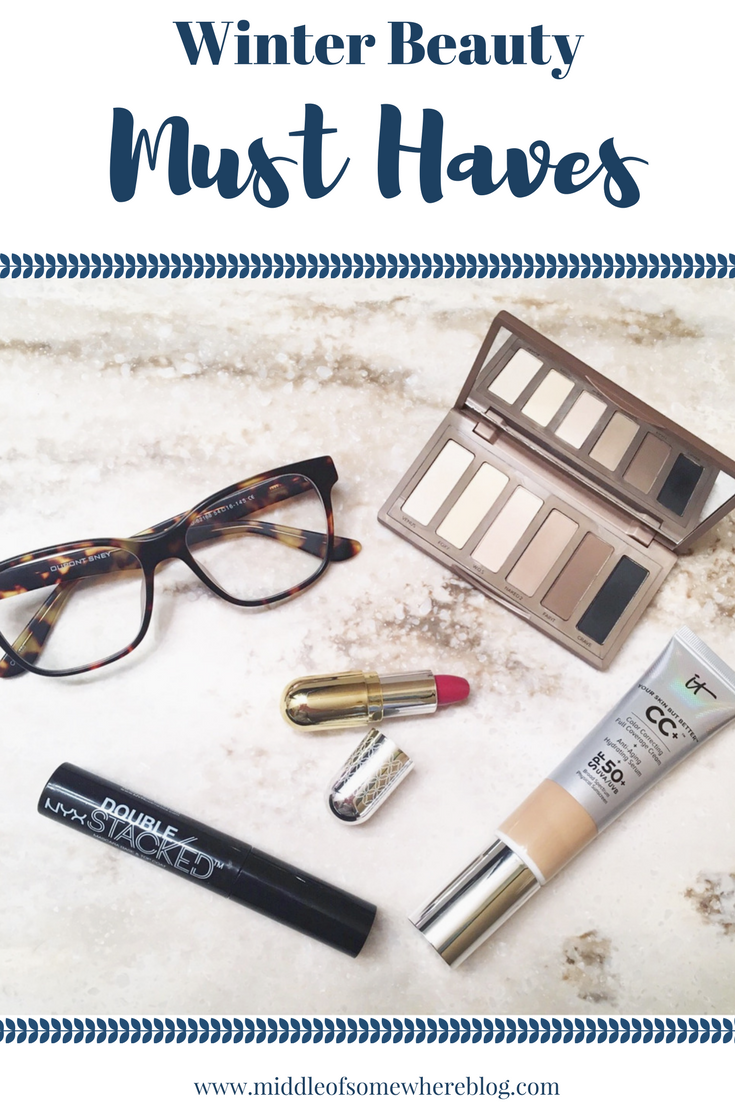 New Mexico is pretty much dry all year long, but the winters always seem to take an extra toll on my skin. My lips get chapped much more often and I find myself struggling with dry skin even more than usual. After living here for the majority of my life, I feel like I have finally found a solid set of both makeup and skincare products that my sensitive skin is tolerant of and that helps combat the extra dry climate that I have to endure in the winter. Also, you know I'm all about affordable products, so almost everything I am talking about today is under $40 (and most is under $20).
Must Have Makeup Products:
It Cosmetics CC+ Cream – This product is completely life changing for me! You may know that I struggle big time with sensitive skin and acne. I finally gave in and tried this CC+ cream over the holidays and I absolutely couldn't believe the amazing coverage it provides. It goes on so smoothly and a little bit goes a long way! It masks any redness or discoloration on my face and actually lasts all day. If you're looking for a foundation that provides full coverage and is super lightweight, this is it!
It Cosmetics Superhero Mascara – I spent a lot of time wondering if this mascara was worth the hype and the $24 it cost, and trust me, it totally is! If you aren't wanting to splurge on this mascara, another favorite of mine is the NYX Double Stacked Mascara ($14.99).Urban Decay Naked Basics Palette – This is actually the first and only Naked palette I have tried and it is seriously amazing! It's perfect for creating a variety of looks, from a simple every day eye to a nice smoky eye. The shadows themselves go on very smoothly and I've never had a problem with creasing. I use the MAC Paint Pot in Bare Study as a base.
Bare Minerals Correcting Concealer – Similar to the It Cosmetics CC+ Cream, I have absolutely fell in love with this concealer. The coverage is buildable and it is very moisturizing, which is perfect for our dry winter.
e.l.f. Cosmetics Blush Palette – I recently received this palette thanks to e.l.f. and have used it every day! For only $6 you can create so many different looks, and I really love the subtle shades in this palette. I love to wear brighter blush in the spring and summer, but love a more muted look in the colder months.
Must Have Skincare Products:
Clarisonic Mia 2 Cleansing System – I've had my Clarisonic for years and still love it. There is a reason why pretty much everyone who has ever tried it raves about it – it is really that good! My face always feels so much cleaner after using it. I personally find that my skin goes a little crazy if I use it daily, so I try to only use my Clarisonic 2-3 times a week. I usually use it with the Clinique cleansing bar.
Burt's Bees Superfruit Lip Balms
 – I always have at least two of these in my bag at any given time. I'm not really a big chapstick fan because I feel like it dries my lips out (weird, I know), but the Burt's Bees lip balms are super moisturizing!
Amara Organics Retinol Cream
 – I've been amazed by how many great beauty and skincare products I have been able to find on Amazon. If you're like me, you're all about the Prime! I bought this retinol cream on a whim and have never looked back. I use it at night and find it to be really hydrating. I have also noticed a significant decrease in fine lines!
Hydrating Hyaluronic Acid Eye Cream
 – I'm not even kidding when I say that I have actually noticed a decrease in the fine lines around my eyes since I've been using this eye cream. I've used other eye creams in the past and felt like I was totally wasting my money because they didn't seem to be doing anything. A lot of the eye creams I've used have also come with a pretty hefty price tag and were certainly not worth the money. This hyaluronic acid eye cream is
amazing
 and is less that $14!
Alba Botanica Even Advanced Deep Sea Mask
 – I originally found this mask on a random Target trip and instantly fell in love. I have always struggled to find a mask that was helpful and didn't cause a major break out, and this one does the trick! It smells amazing too and leaves my face super soft after only leaving it on for about 10 minutes.
What are some of your winter beauty essentials?