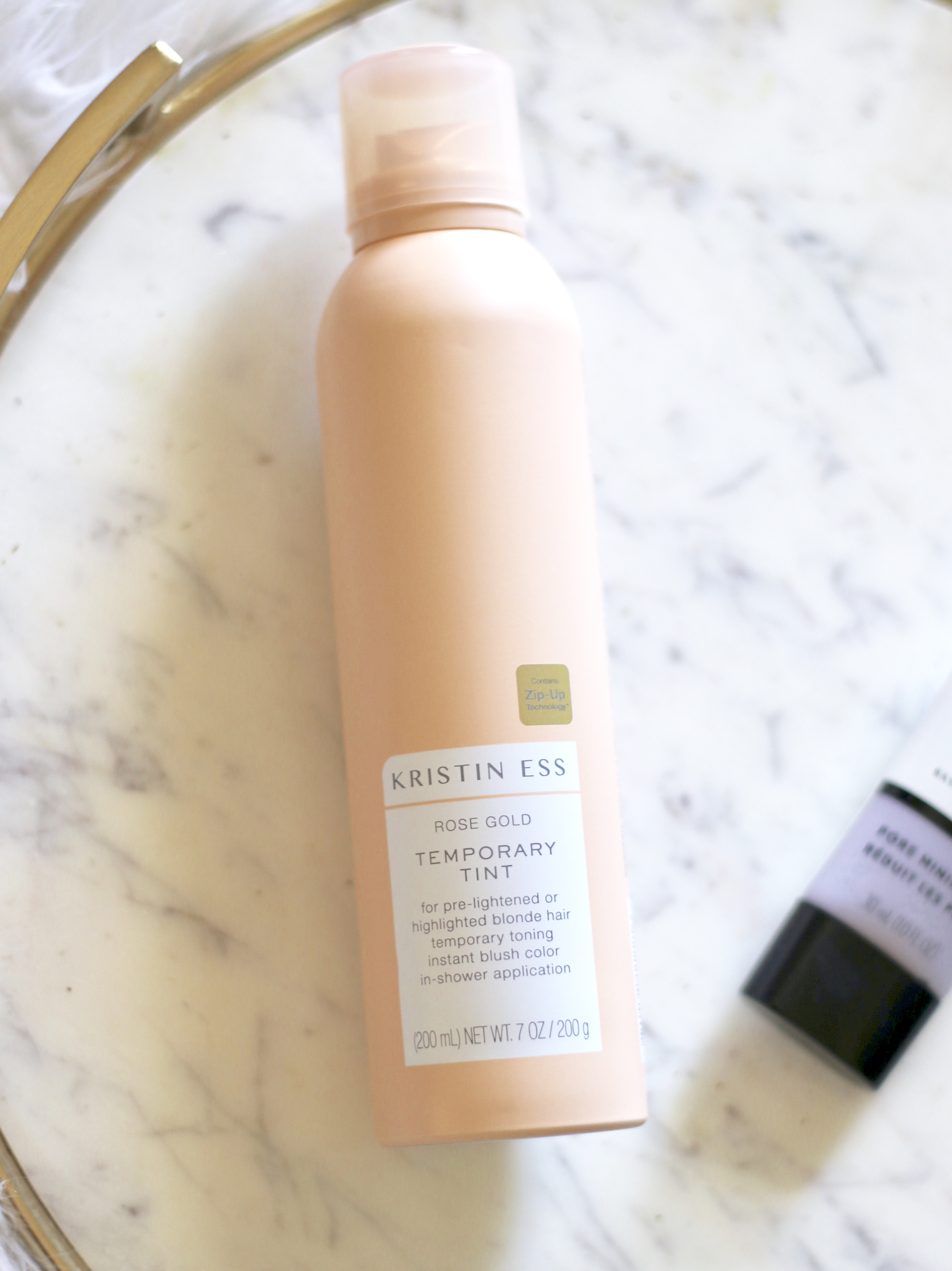 This post has been in the works for a few weeks already, and I'm excited to finally be sharing it! If you follow my Instagram stories (@lindsayrutland), you may have seen that I accidentally deleted all of the photos I took for this post two weeks ago. Well time was on my side this past weekend, so thankfully I was able to give the pictures another shot. I do realize that I am sharing June favorites on the 10th of July. My hope is to make this into a monthly series that I will share at the beginning of each month! After taking a poll on Instagram, it seems like this is something everyone was interested in, and I'd love your feedback now that it's finally live! So without further ado, here are my June beauty hits and misses.
June Beauty Hits: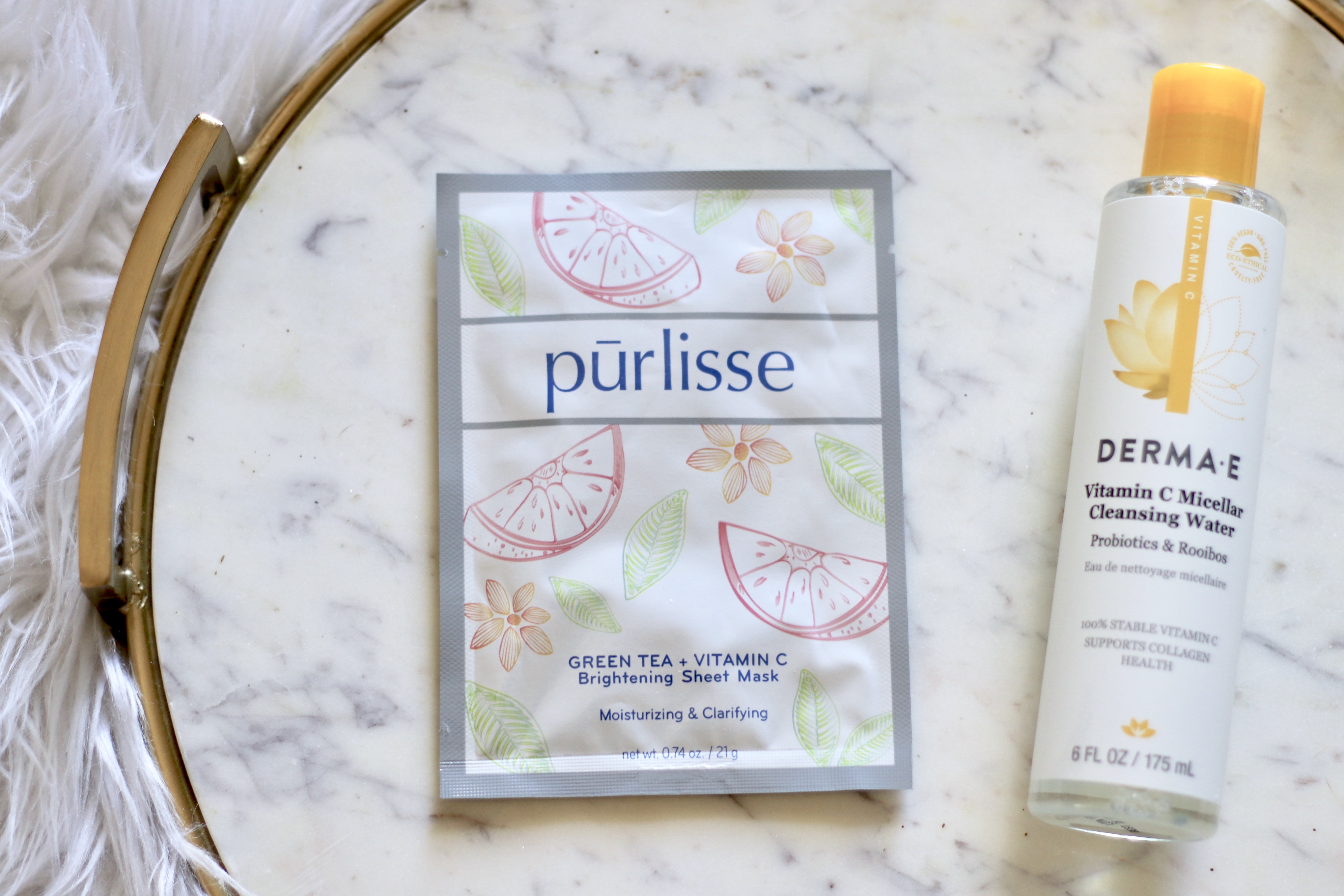 Purlisse Sheet Masks are my absolute favorite, so they needed to be first on this list! This product is not new to me, but is so good I had to share. I have tried a few different masks, and the green tea & vitamin C ones are the best. I always wash off my makeup and cleanse my skin before applying. After leaving the mask on for about 15 minutes, I remove it and make sure to pat the remaining serum into my skin. I actually don't apply anything else but a nighttime moisturizer after this mask, and I really think the serum does a great job of brightening and softening my skin.
The Derma-E Vitamin C Micellar Cleansing Water is another great new skincare product that I have been incorporating into my nightly routine. I don't know why it took me so long to start using micellar water, but now that I have been using it I can't turn back. I typically like to alternate between micellar water, Pacifica cleansing cloths, and a cleansing oil each night when taking off my makeup. Now that I have found this version from Derma-E, I may not be alternating as much. This product is so refreshing!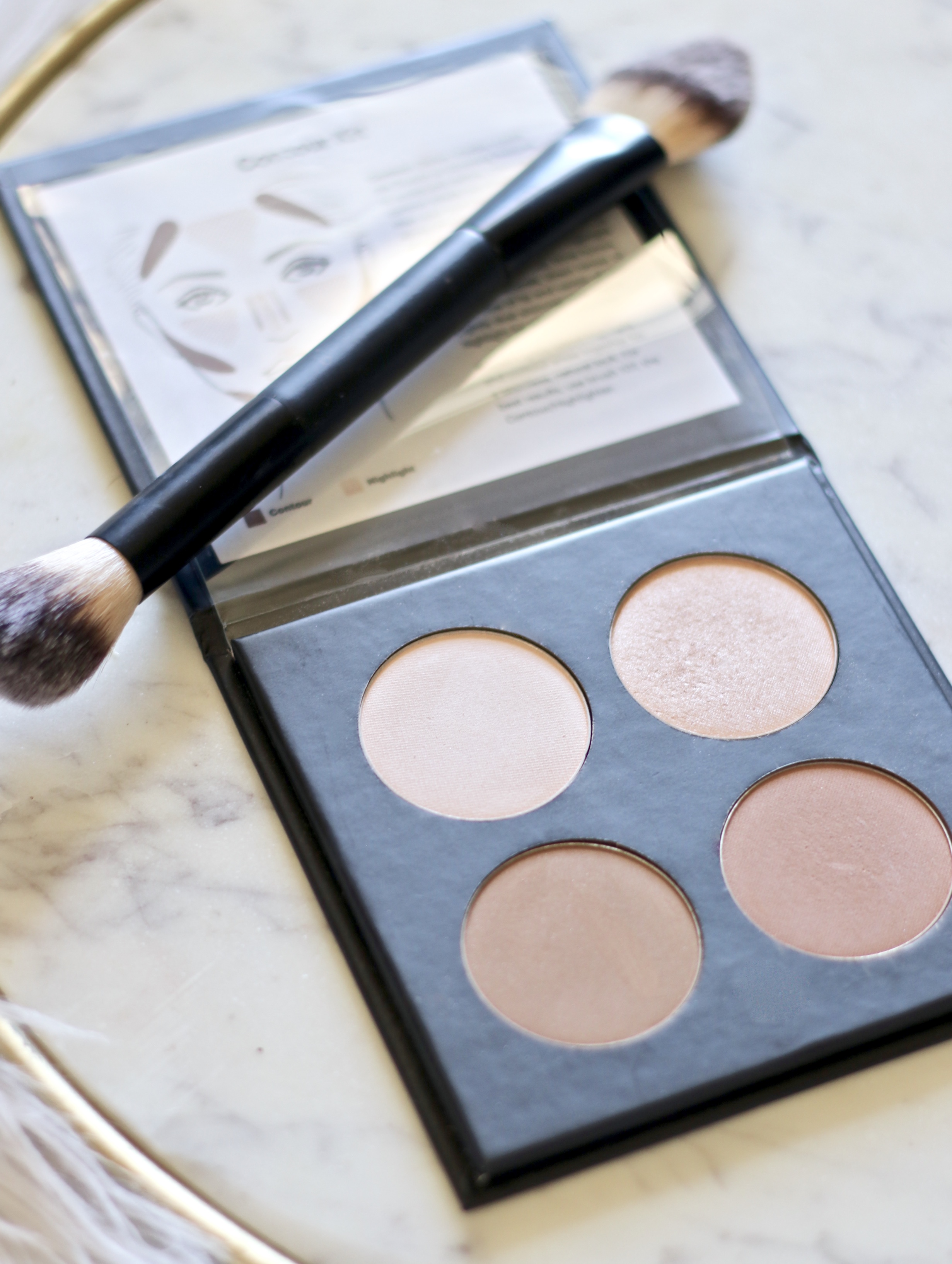 The Glo Skin Beauty Contour/Highlight brush and the contour kit were a complete hit for me! I was sent this product a few months back, and finally gave it try. The shimmer highlight has been my go-to highlighter lately. I am really looking forward to being able to bring this palette on some upcoming trips I have planned. The contour shades blend really well, and all of the shades apply very naturally. I have been using the fair to light kit, but it also comes in medium to dark.
The last hit of the month is the Urban Decay Chill setting spray. I'll be honest, this one wasn't an immediate hit. It is supposed to be cooling, however I don't really notice any type of cooling sensation when I apply. I am, however, extremely impressed with it's power to help makeup stay put! This product is truly worth every penny, especially in the hot summer months when makeup has a tendency to melt off easily.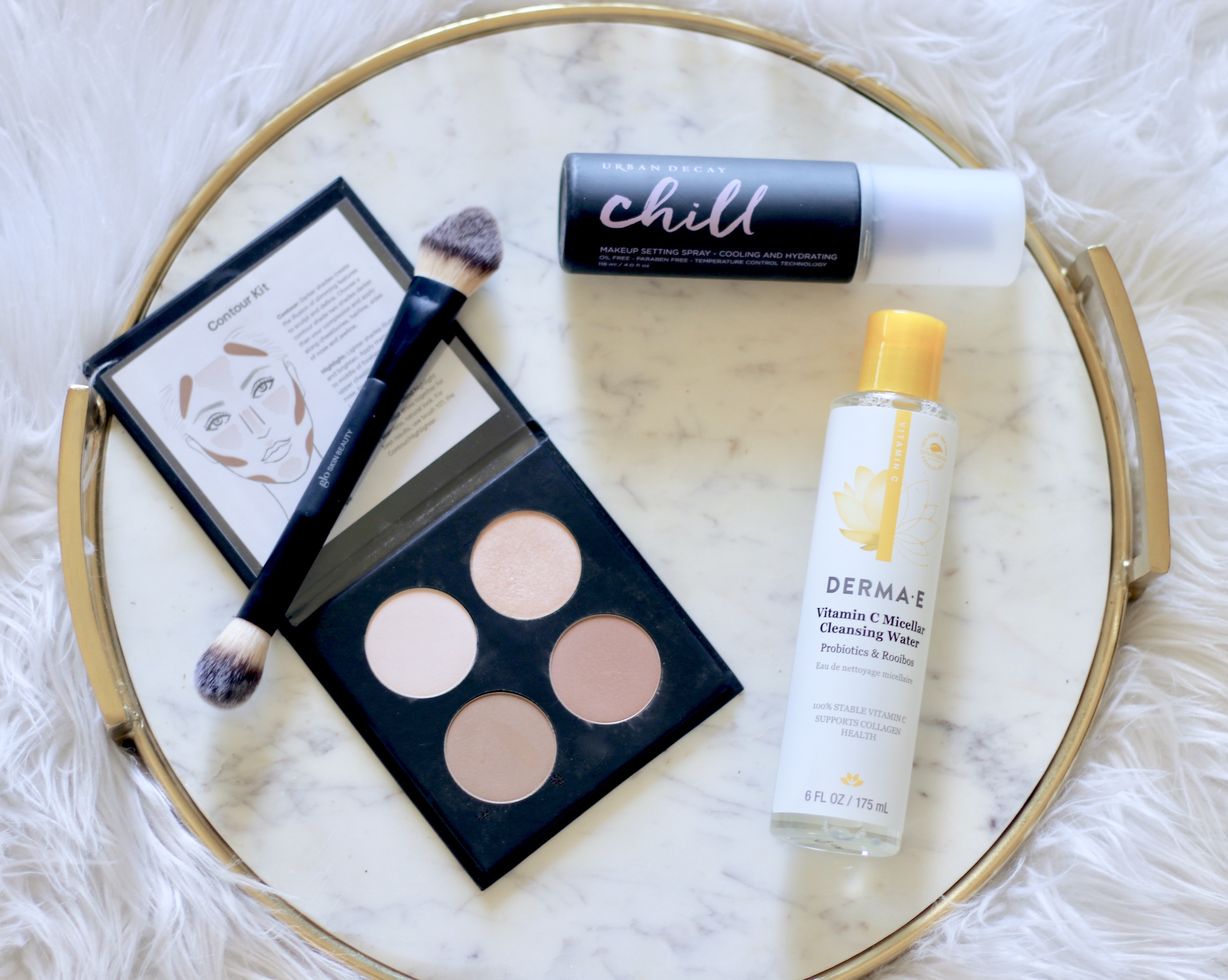 June Beauty Misses: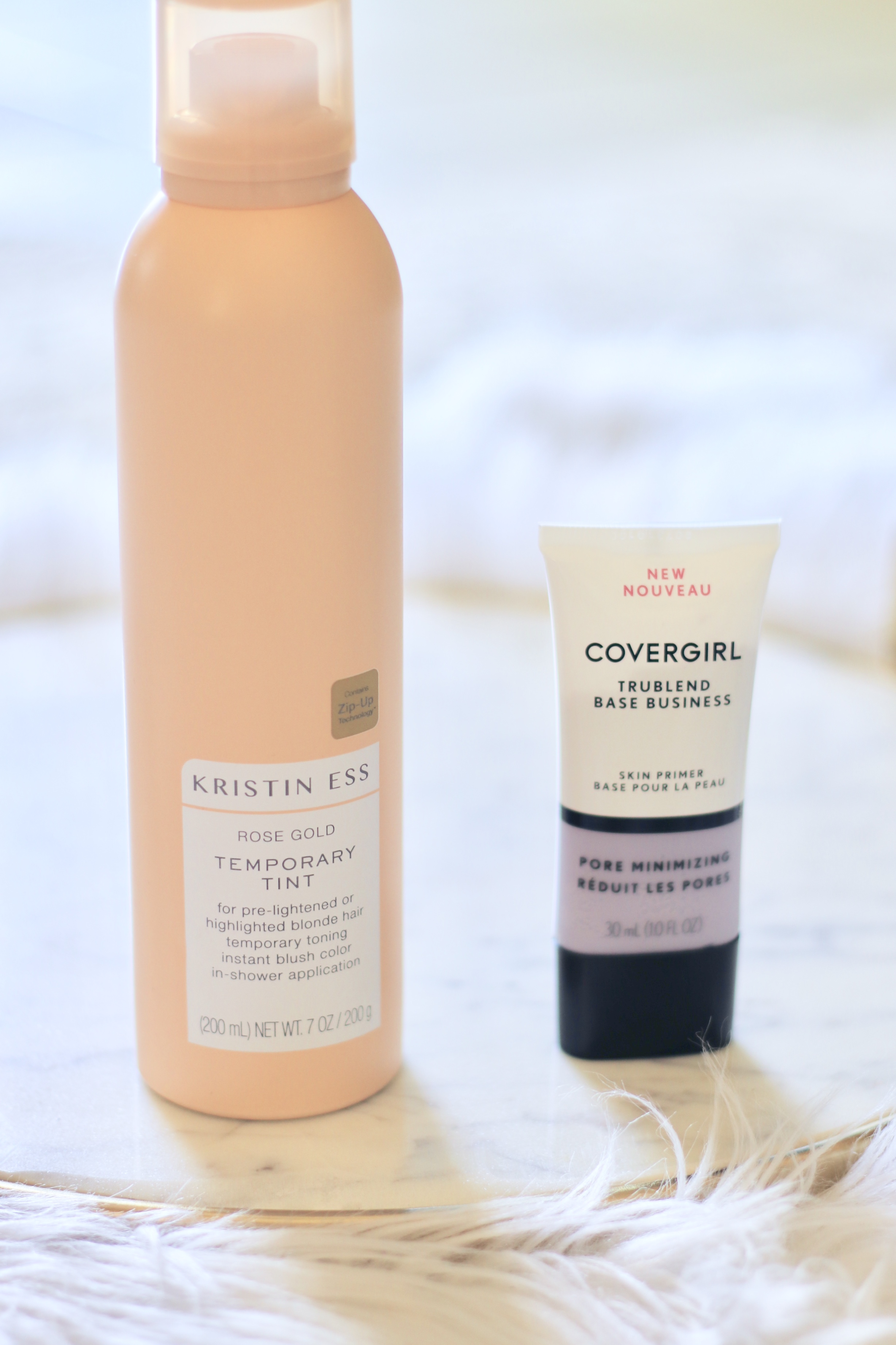 I am so sad that the Kristin Ess Rose Gold Tint Spray made the miss list. The first time I tried it was for Harper's mermaid birthday party, where I actually used it on both her hair and mine. I had stalked Kristin's Instagram, and was so in love with all of the gorgeous photos of girls rocking their pink hair. Mine didn't even look like I had used the product at all. I have even tried spraying it on almost dry hair, and still no luck! According to the directions, the drier the hair, the more vibrant the color is supposed to be. This didn't seem to make a difference for me. I will probably give it a few more tries, but as of now it's a major miss.
COVERGIRL truBLEND Base Business Face Primer is my second miss of the month. Another product I really wanted to love, especially since it's supposed to minimize the appearance of pores. Unfortunately I didn't love this primer. I don't feel like it helps my makeup stay put, and I did notice a few breakouts in the days following its use.
Shop my June Beauty Hits and Misses: