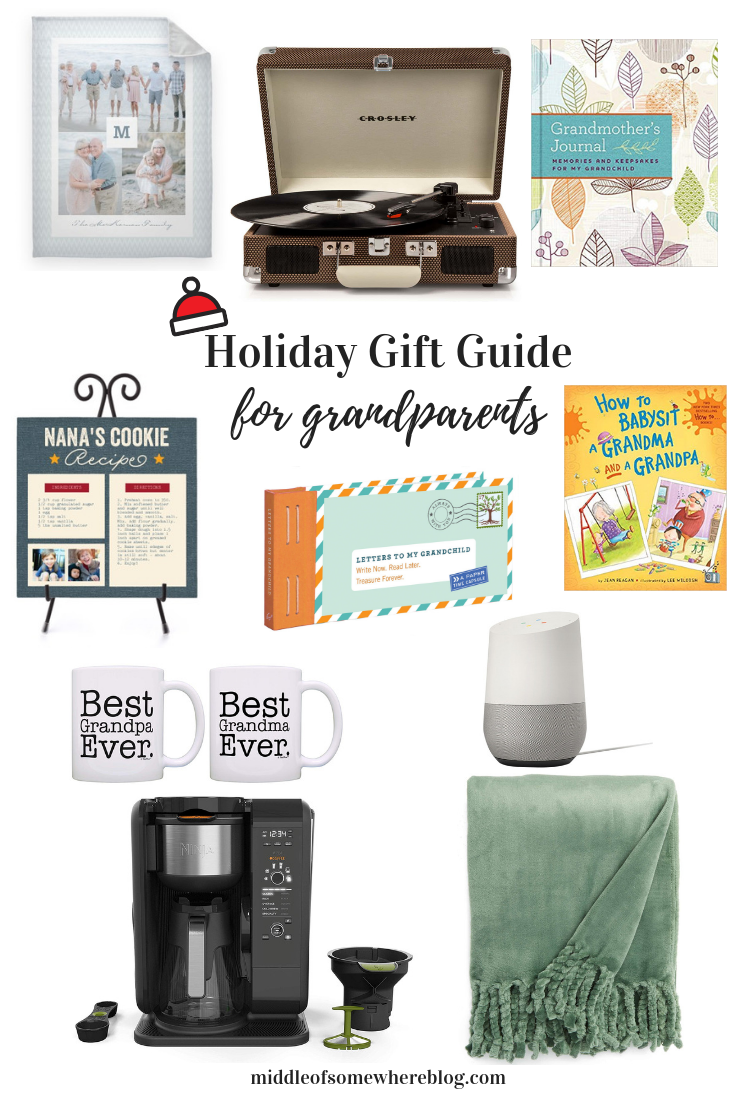 Thanks to everyone who responded to some of my recent Instastory polls, today I am excited to share my gift guide for grandparents. Whether you're specifically shopping for Christmas, or maybe even a birthday, I have found my top 10 gift picks. My parents are always fans of personalized gifts, so I of course had to include a few of those in the list. Others are a bit more generic, but are great especially if they grandparents in your life are retired and spend more time at home. So without further ado, here we go! P.S. All of these should arrive by Christmas if you order by the weekend, and some are Amazon Prime.
Gift Guide for Grandparents
Letters to my Grandchild: I had to include this first because I think it would be so fun for grandparents to write letters to your children. It would be such a cool thing for kids to look back on as they get older!
Grandmother's Journal: I almost didn't include this one because my mom reads my blog and pretty sure she will tell me she wants this haha! Such a sweet gift idea! You may be getting it for Mother's Day Mom 🙂
 Ninja Hot and Cold Brewed System: Who doesn't love a new coffee maker? We own a similar version of this Ninja and are obsessed! It's time for grandma and grandpa to upgrade their old drip coffee pot.
Best Grandparents Mugs: A great Amazon Prime find! Would make the perfect add-on to the Ninja coffee maker too.
Crosley Deluxe Turntable: Did your parents have a record player when you were younger that they got rid of? Or maybe their old record player just needs an update. A turntable is great for any household, and makes listening to music feel a little more nostalgic.
How to Babysit a Grandma and Grandpa Book Set: My parents actually bought Harper both of these books and we really enjoy them. I love the idea of getting the box set to leave at grandma and grandpa's house as well.
Best Recipe Tile: If the grandparents in your life enjoy cooking, especially family recipes, this is the perfect gift. You can include a recipe that has been in the family for easy reference, and it doubles as cute countertop decor.
Fleece Photo Blanket: I've actually been wanting to get my parents a photo blanket with Harper's photos on it for awhile. My in-laws have one and I just think they make the perfect gift!
Google Home: One of the best things to have ever entered my home! I actually gave my parents the mini version, and they love it too. Perfect to listen to music, get weather updates, ask questions, etc.
Nordstrom at Home Plush Throw: I already own two of these, and am so impressed. They are super soft, and hold up after multiple washes. Great addition to any home! They're also under $30 right now.
Shop the Gift Guide for Grandparents: