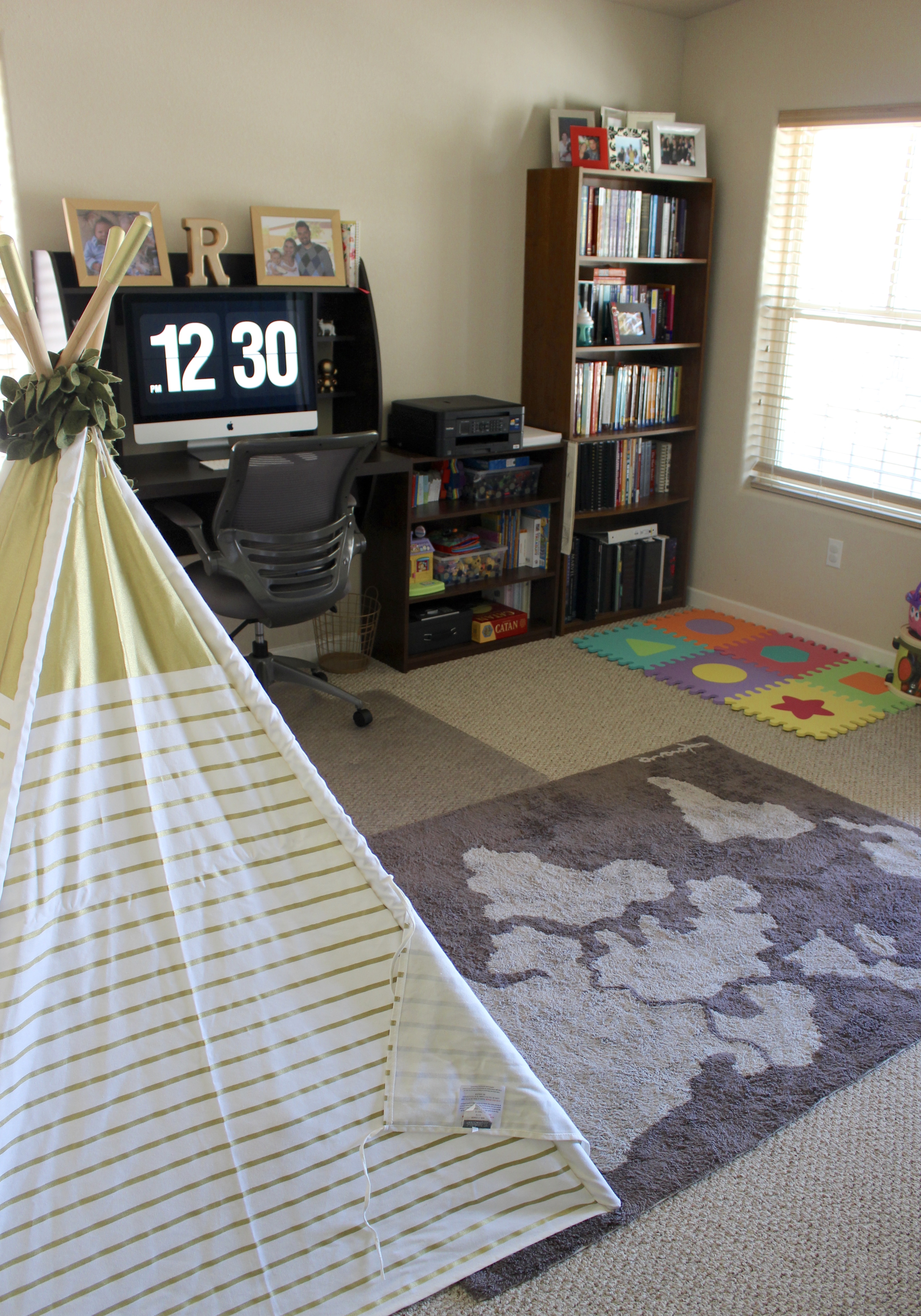 When my husband and I moved into our first home together almost 5 years ago, we always talked about making the front room into some type of office/reading room. It's actually meant to be a formal dining area, but that's not really our style. Also, the amount of space we have is way too limited for that. Other than painting the wall, we pretty much left the room untouched until this year because we couldn't quite figure out how we wanted to style it. Since having Harper, our vision of the front room has definitely changed!
Our house isn't terribly large, so finding storage for everything has been a bit of a challenge. Earlier this year, we finally invested in an iMac after coveting one for years.  We knew that we would need to find a desk that took up minimal space for it. We also needed something that was high enough off the ground to limit Harper's access, since this room doubles as her playroom. Once we actually started styling this room, it came together fairly quickly. We love the way it turned out!
In the midst of putting the finishing touches on the room, I was given the opportunity to pick out a rug from 
Lorena Canals
. If you haven't heard of Lorena Canals before, you are missing out! All of their rugs are not only adorable and super soft, they are also machine washable! If you are a parent, that is a major plus when adding a rug to your home! We quickly decided on the 
World Map rug
 for our office/playroom. I just love how the rug completes the room, and it feels perfect for this space since our vision for it now with a family is a place to learn and create in.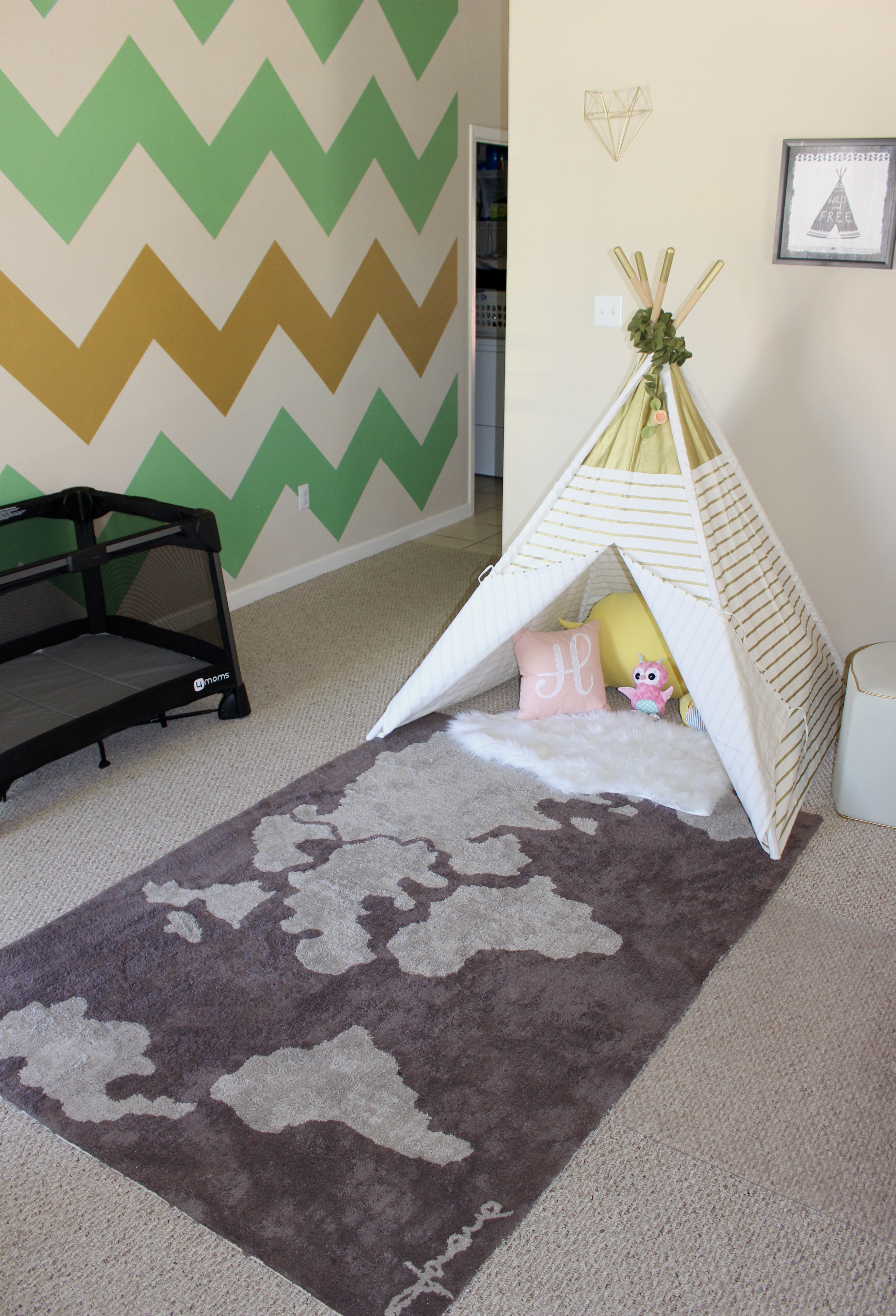 If you are like me and are working with limited space in your home, here are 3 tips on how to style a joint office and play area:
1.
Limit the amount of furniture in the room
– Choose space saving pieces, such as a 
floating desk
 and 
tall bookcases.
 You will find that you are able to fit a lot more in a small space than you would using traditional larger pieces of furniture. We always talked about having a larger desk for both a computer and an area for my husband to work on various art projects, however in the home we have now that is just not possible.
2.
Get creative with your storage
– I really don't know what we would do without 
this toy organizer
! It it the perfect size when you have limited space, and can fit a ton of toys.
This store-all unit
 is another great option for a small room. Since bookcases are relatively narrow, we decided to use them to store not only books, but more toys. The width is also perfect to double as a platform for a printer.
3.
Add your own personal touch with unique accent pieces
 – I would have to say that our major accent piece is the chevron wall that we painted when we first moved in a few years ago. Don't be afraid to experiment with paint! I know many people prefer a more muted color palette, however we definitely prefer bright and colorful spaces. This is especially true for this room since it is a place for Harper to play and learn in. I also love the uniqueness of 
the World Map rug
, and Harper's 
gold and white teepee
.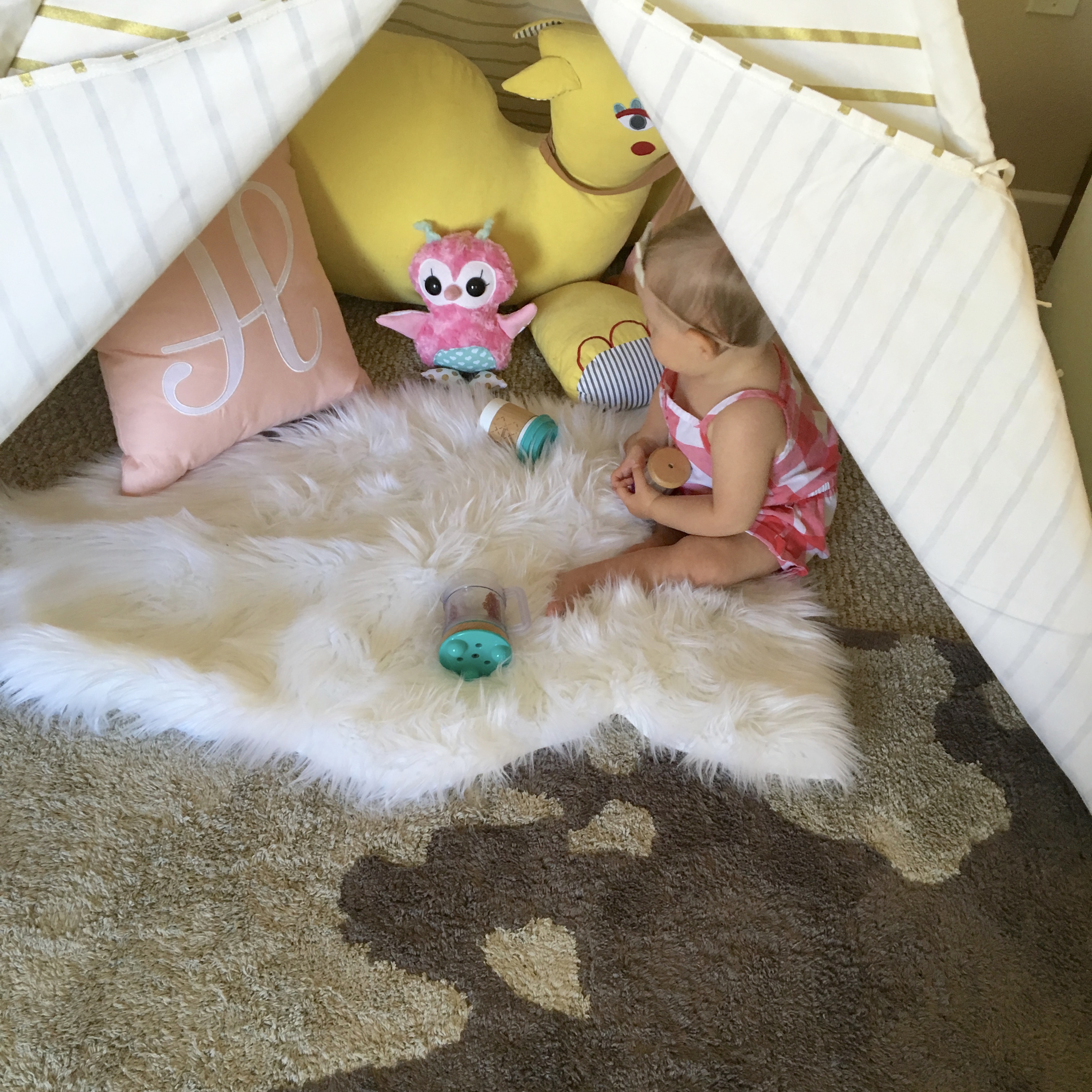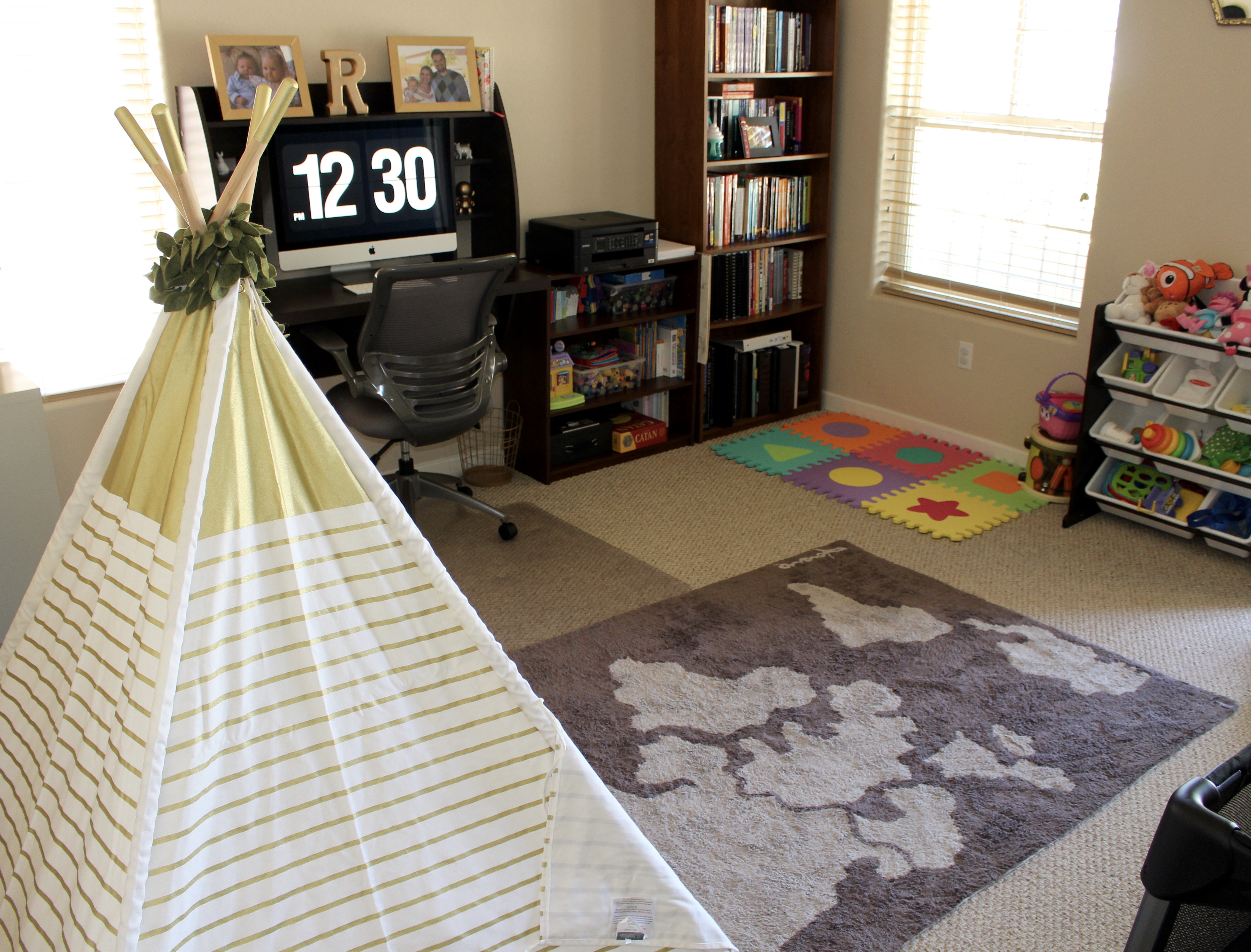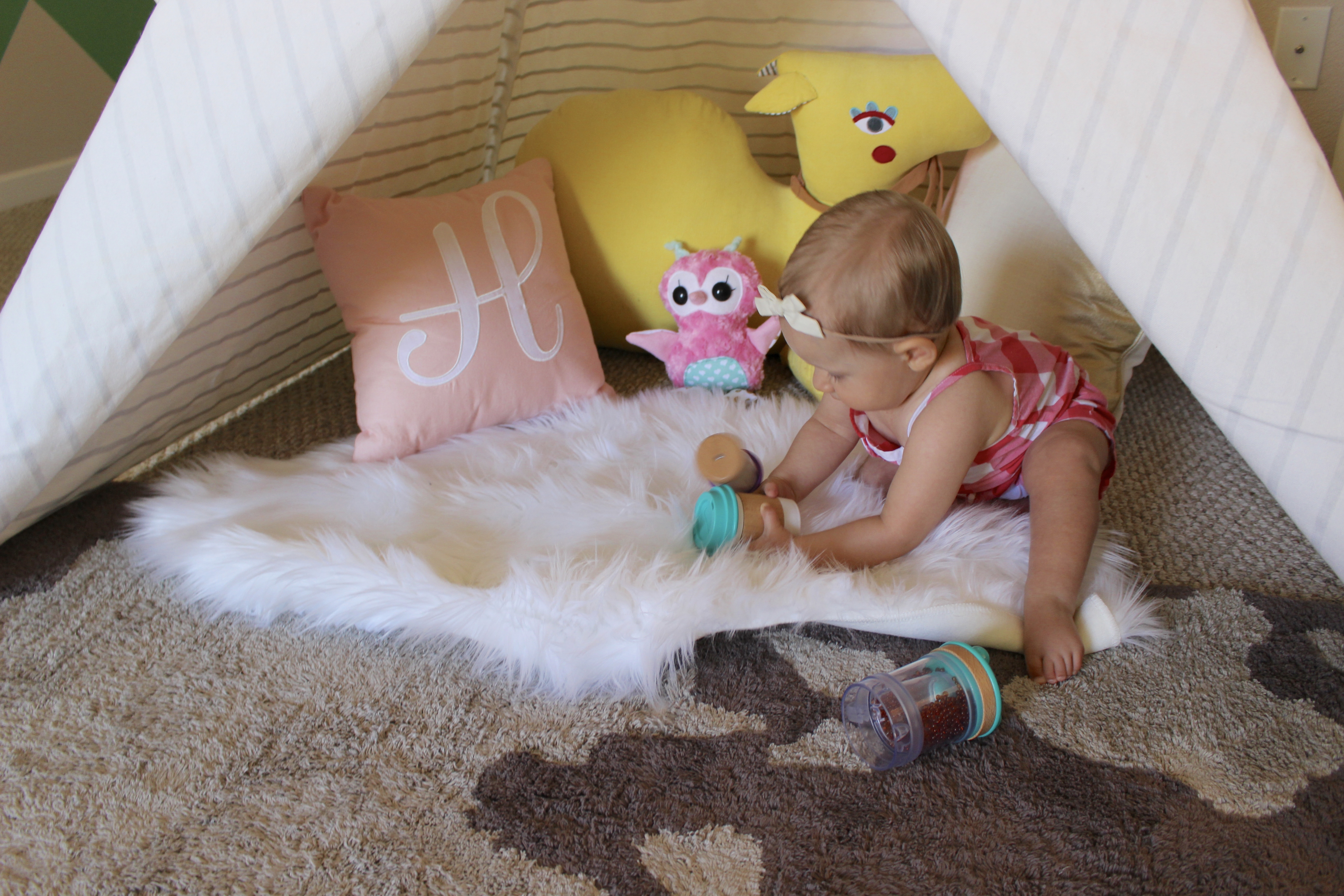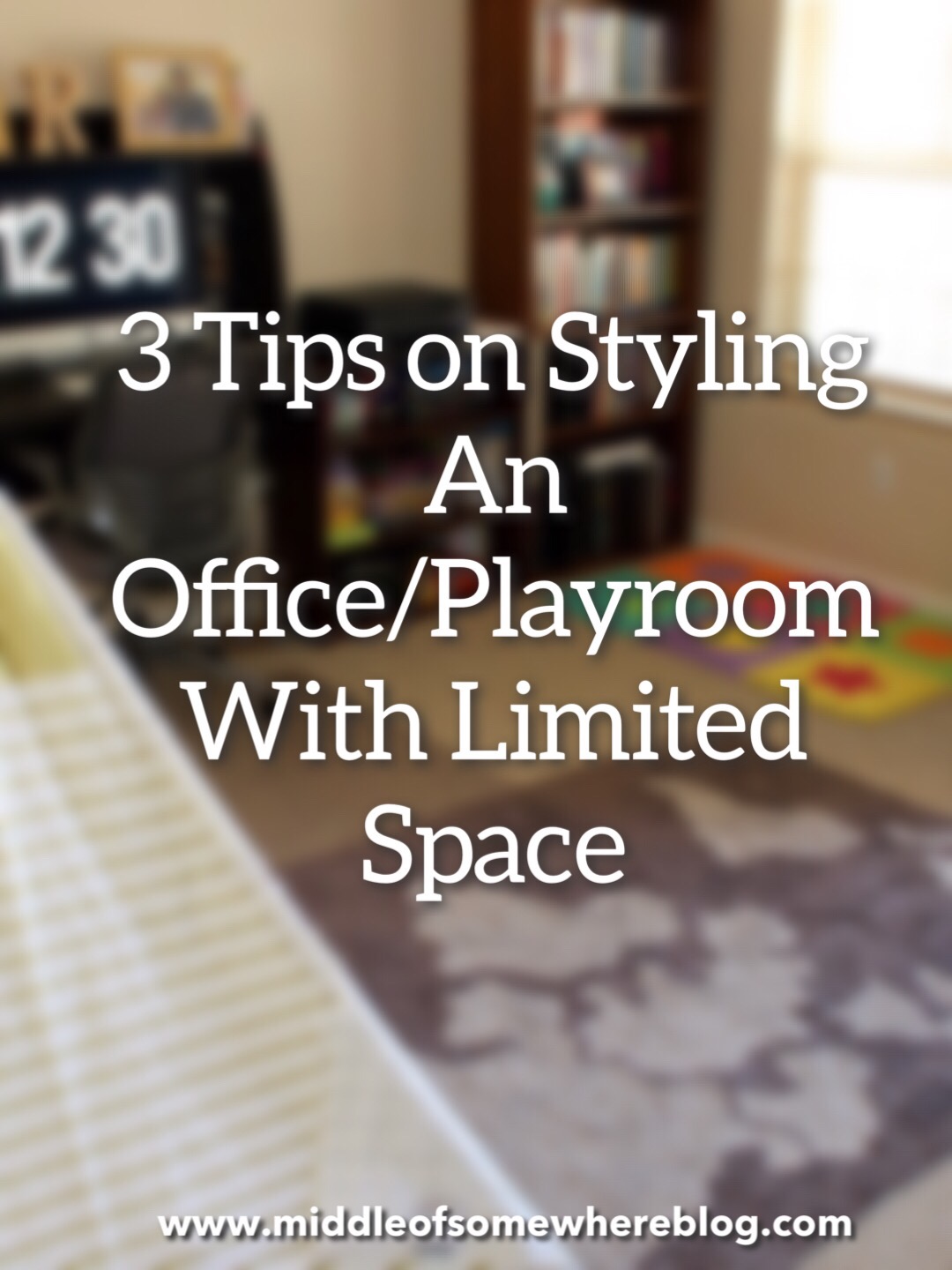 Featured items: