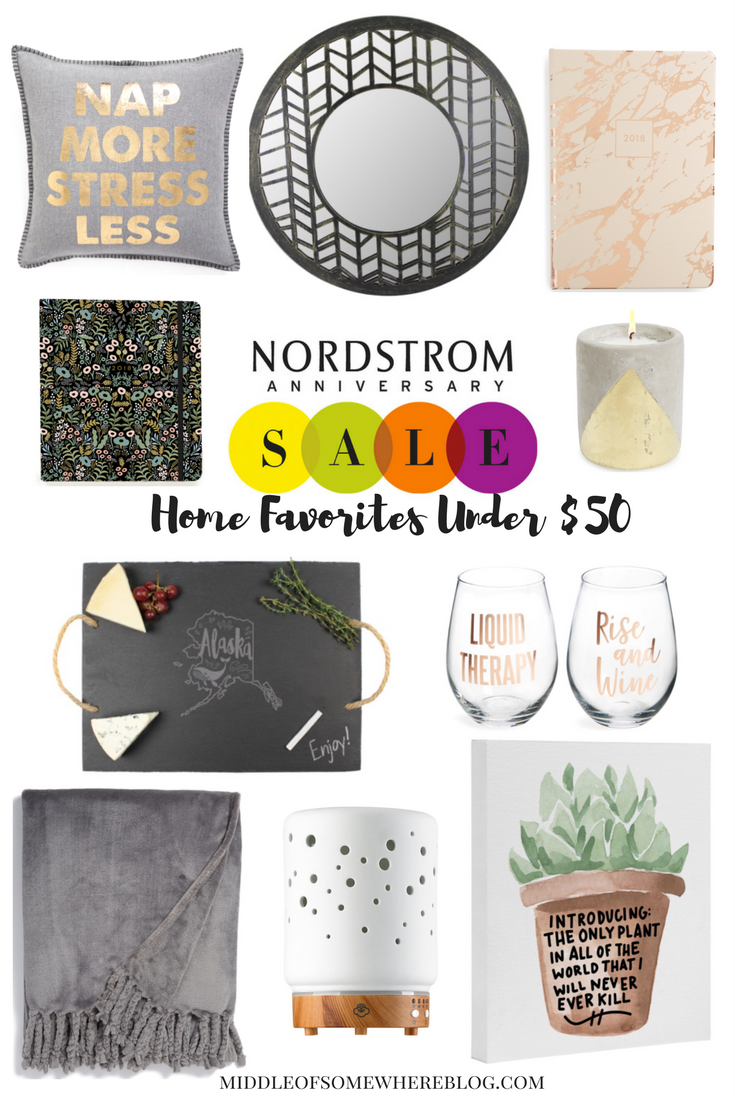 Ok, so remember when I said I would only post twice about the Nordstrom Anniversary Sale? Well today makes post #3 and I'm sorry (not sorry!). During the last few weeks I shared both my women's favorites under $50, and my picks that are under $100. While a lot of the clothing items and accessories are out of stock, there are still a ton of cute home items in stock and ready to ship! Basically, the best part about all of the items I am sharing today is that they are all still available! I actually just ordered the plush throw after reading so many great reviews about it. I'm seriously debating on picking up a new diffuser as well because they have a few options all between $30-$40! The sale ends on August 7th, so there are only a few more days left to save. I'm also sharing an amazing $700 Nordstrom giveaway at the end of this post, so be sure to enter!
Nordstrom Anniversary Sale Home Favorites Under $50 // SHOP:
Serene House Aromatherapy Diffuser
Nap More Stress Less Accent Pillow
Herringbone Frame Round Mirror
Set of 2 Stemless Wine Glasses

This week I decided to team up with some of my favorite bloggers and bring you an amazing giveaway. One lucky reader will win a $700 gift card to Nordstrom.
Money Can Buy Lipstick
|
Blush & Blooms
|
Coming Up Roses
|
Bright On A Budget
|
Miss Molly Moon
|
Blondes & Bagels
A Gallon of Glitter
|
DTK Austin
|
Pretty in Pink Megan
|
Trendy Chickadee
|
The Closet Crush
|
Greta Hollar
RD's Obsessions
|
Gracefully Taylored
|
Posh in Progress
|
The Haute Sweat
|
Ashley's Passion for Fashion
|
The Trendy Tomboy
The Dandy Liar
|
Super Fashionable
|
Style Weekender
|
My Boring Closet
|
Twenty Teenz
|
Audrey Madison Stowe
So Heather
|
Middle of Somewhere Blog
|
Something Dashing
|
Style Miss Molly
|
I'm Fixin' To Blog
|
Truth or Flares
Use the widget below to enter the giveaway. The more "tasks" you complete, the more entries you will receive. The winner will be announced (on the widget) within 2 weeks of the giveaway ending. The giveaway is open to U.S. and Canada residents.
a Rafflecopter giveaway