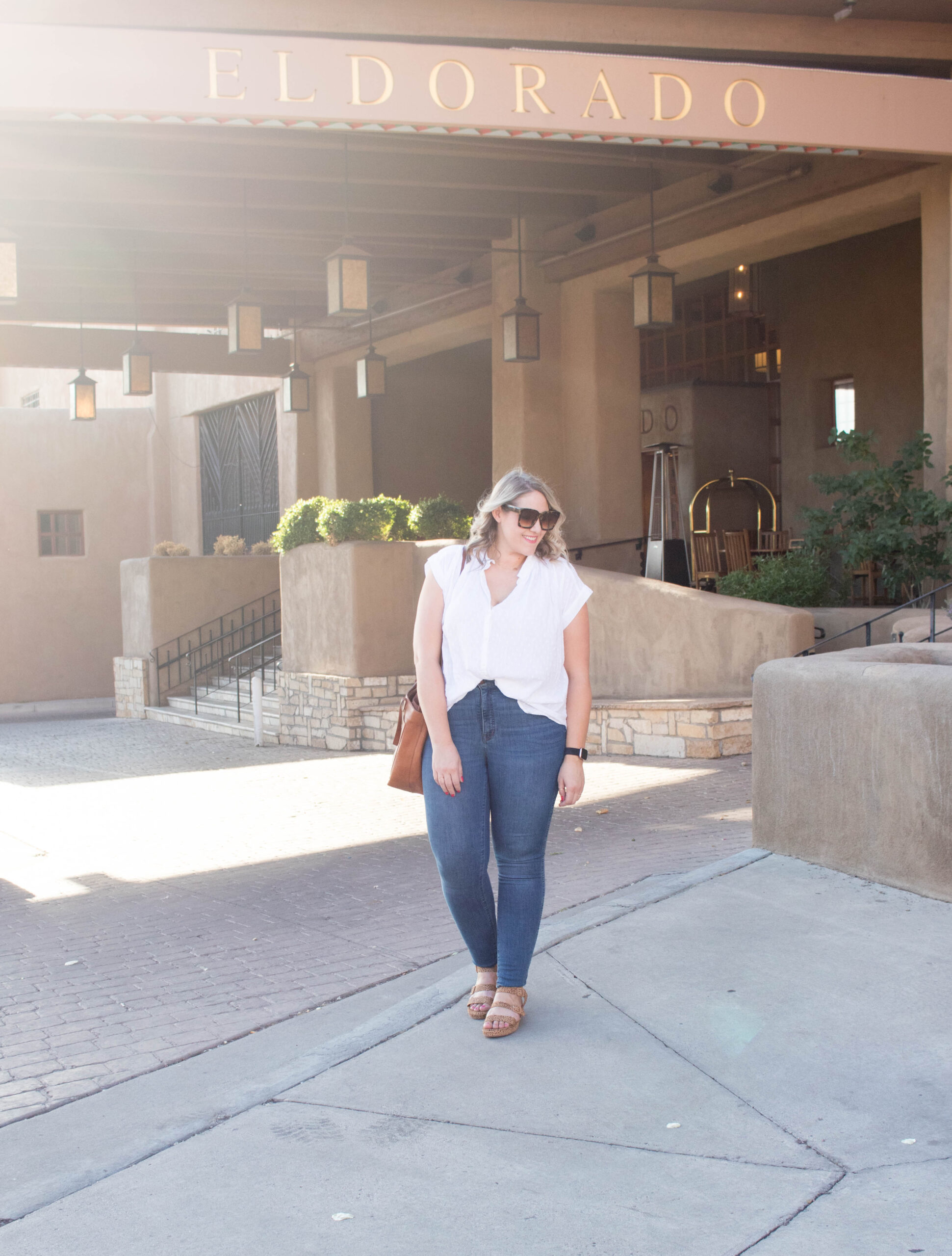 This post is in partnership with Simply Social Media. Our weekend was hosted, however all thoughts and opinions are my own.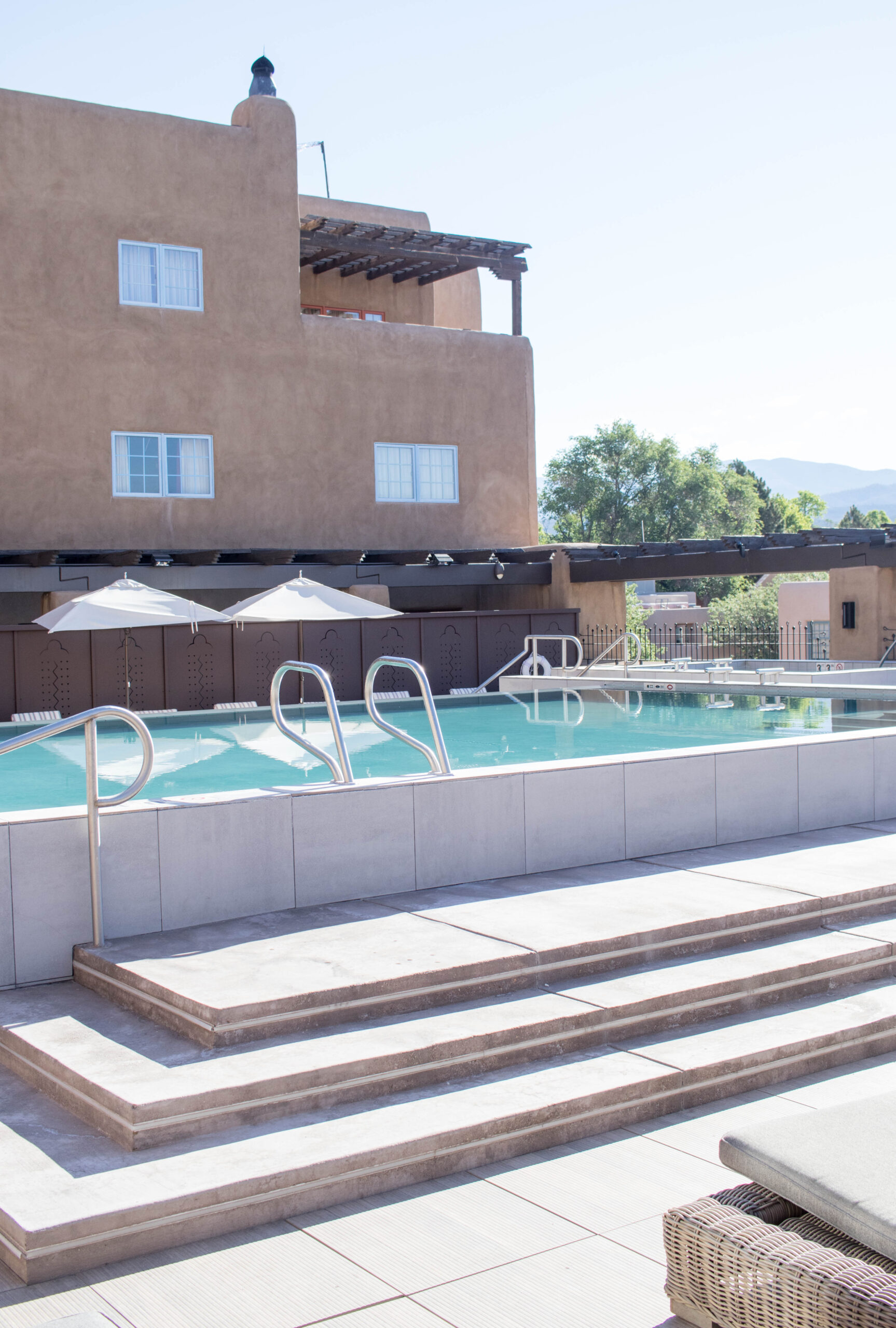 A few weeks ago, we decided to spend a weekend in Santa Fe, NM as a family. Since Leo was born, we have only spent the night away from home a handful of times. We would love to take a longer vacation with him, however a weekend away is more than enough for him at this point. We also love checking out all of the beauty that New Mexico has to offer, so a local trip sounded ideal! Traveling somewhere within an hour or two of home was definitely at the top of that list. Even though I am from Albuquerque, I have never spent a ton of time in Santa Fe. My husband and I both thought it would be the perfect place for a little weekend staycation.
A Weekend in Santa Fe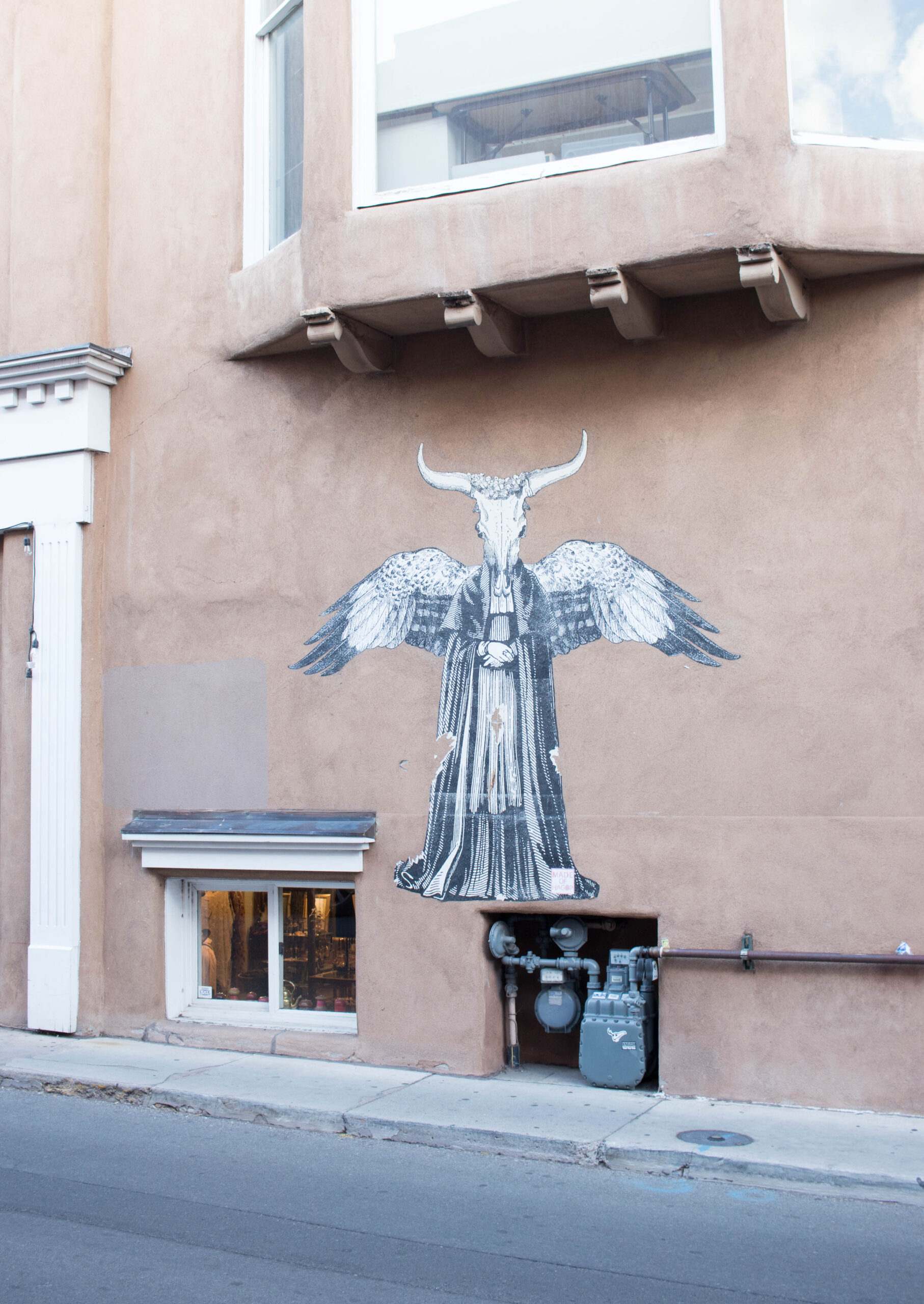 We went up to Santa Fe on a Friday evening and did not drive home until Sunday afternoon. Even though it was a short weekend, we found so many great places to check out while we were there. On Sunday, we woke up to pouring rain, which was actually really nice. Since we don't get a ton of rain in New Mexico, any rainy day is a good day even if you had to change plans to accommodate it. We were lucky enough to stay at the perfect family friendly hotel, Eldorado, that had the best pool. While packing, we made sure to bring a few different bathing suits because we knew we would spend a lot of time at the pool. The weather was an absolute dream throughout the whole weekend. It was noticeably cooler there than in Albuquerque, and we welcomed the lower temps. If you are planning a trip to Santa Fe, here are some ideas to incorporate into your trip!
Where to Stay: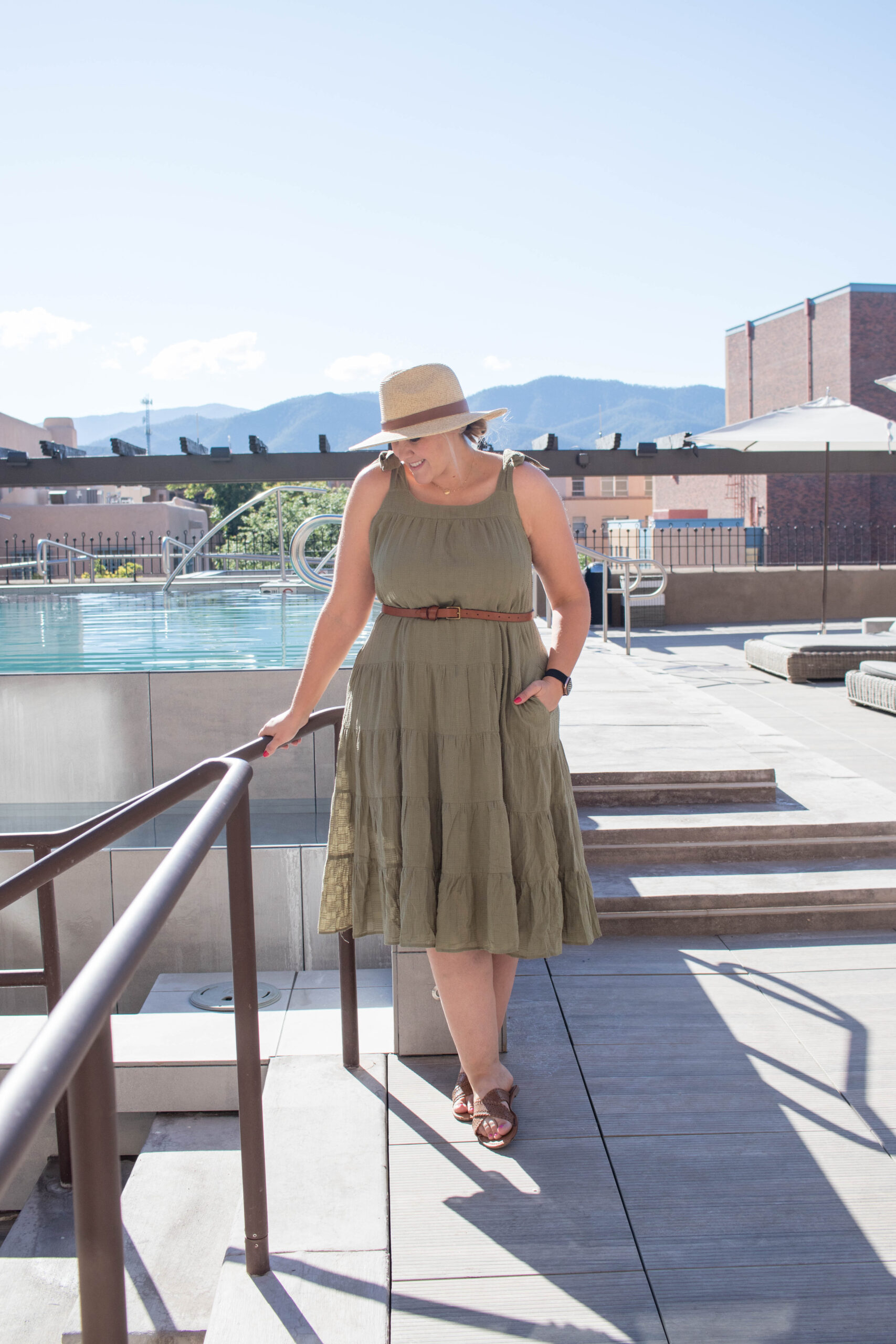 We had the pleasure of staying at Eldorado Hotel and Spa while in Santa Fe. I had heard great things about the property prior to our trip, so I was excited to be able to check it out! Our room overlooked the pool, and the location of the hotel is ideal if you plan to explore the city on foot. Most places we ate at and checked out were absolutely within walking distance, which is perfect if you are traveling with kids. Leo rode around in a stroller most of the time, making walking around a breeze. The hotel is a AAA Four-Diamond rated property, and has an on site spa, taproom, restaurant, and more. The pool was definitely the highlight of our stay, and I loved the amazing view of the city from the rooftop patio (even in the rain)!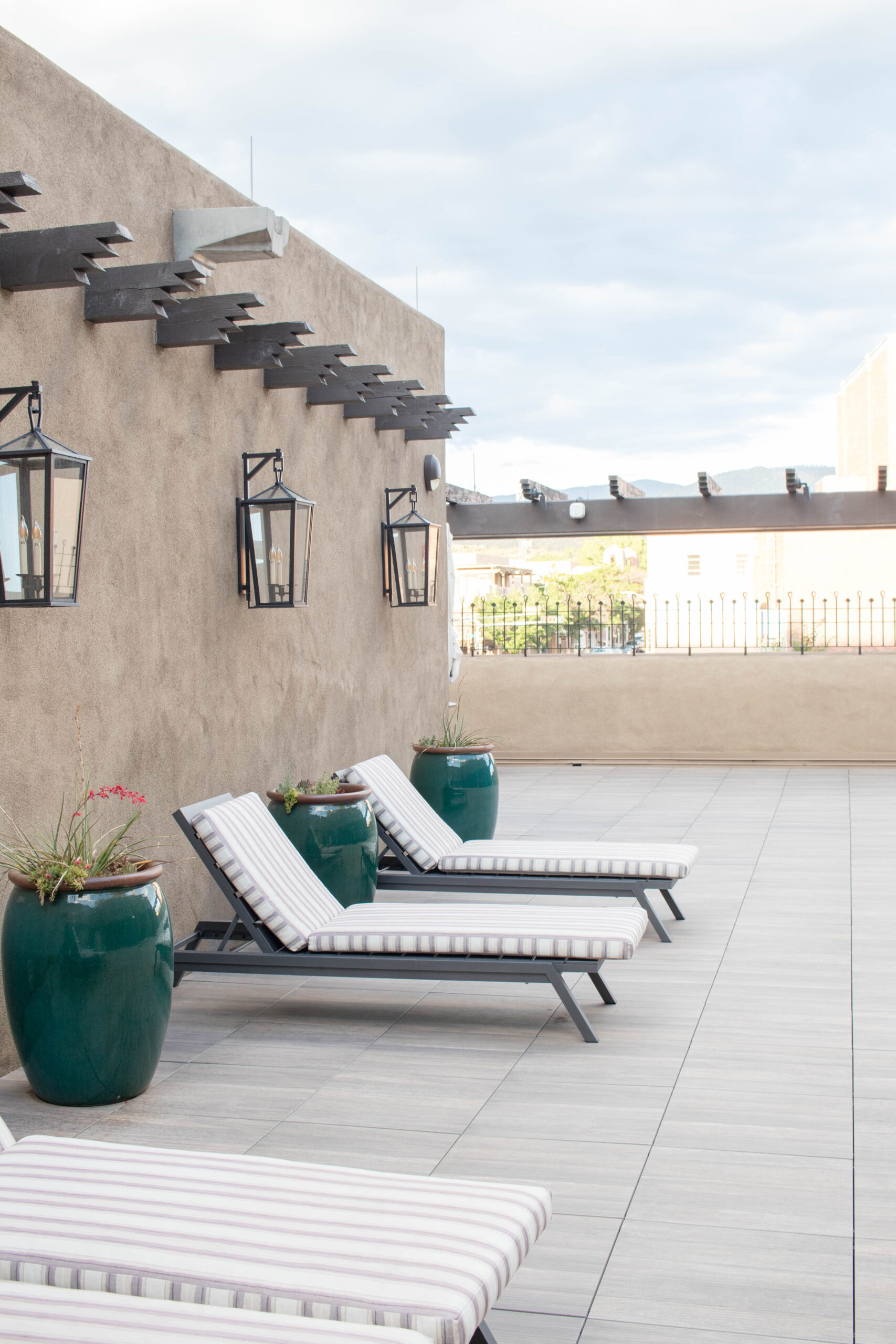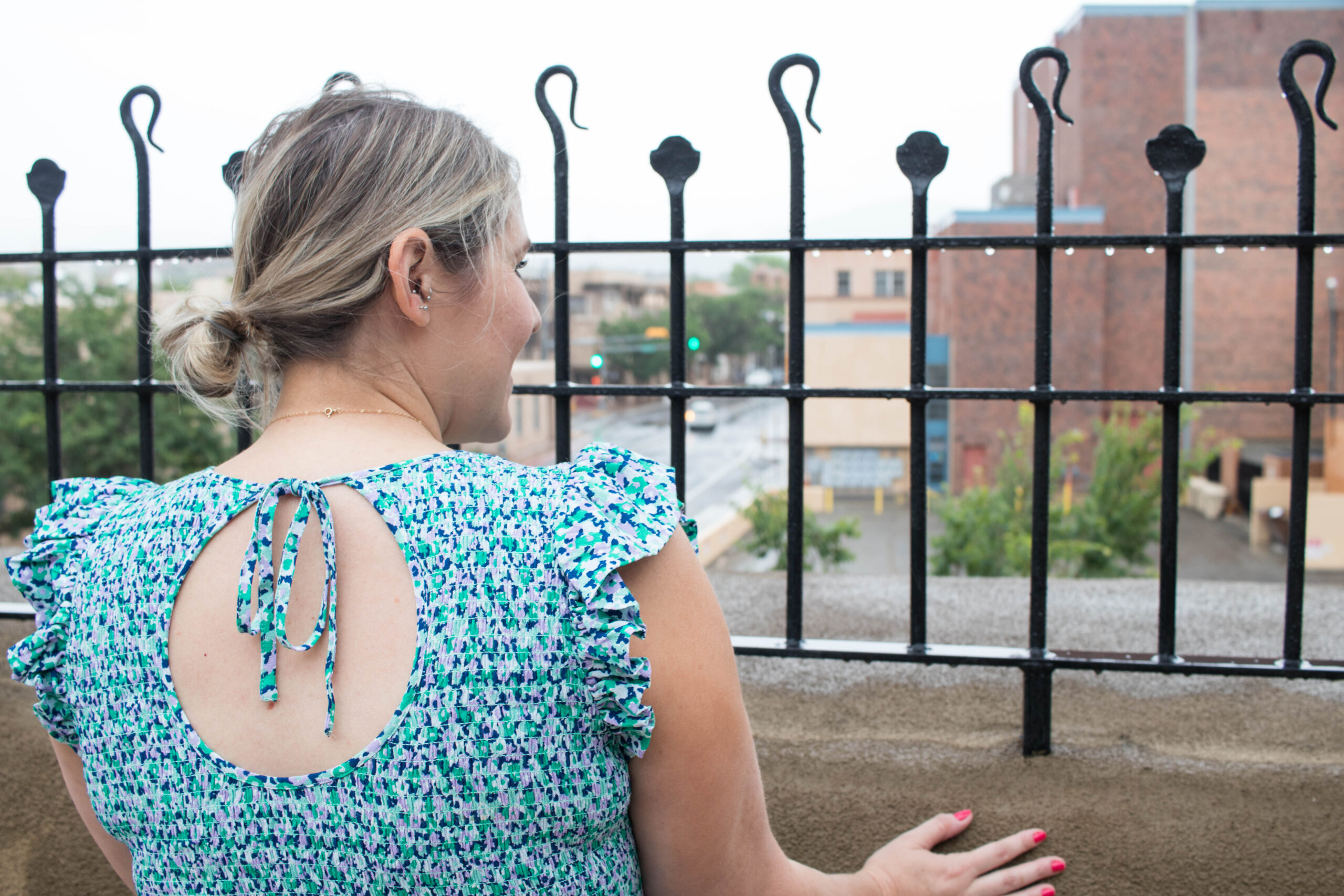 What to Eat: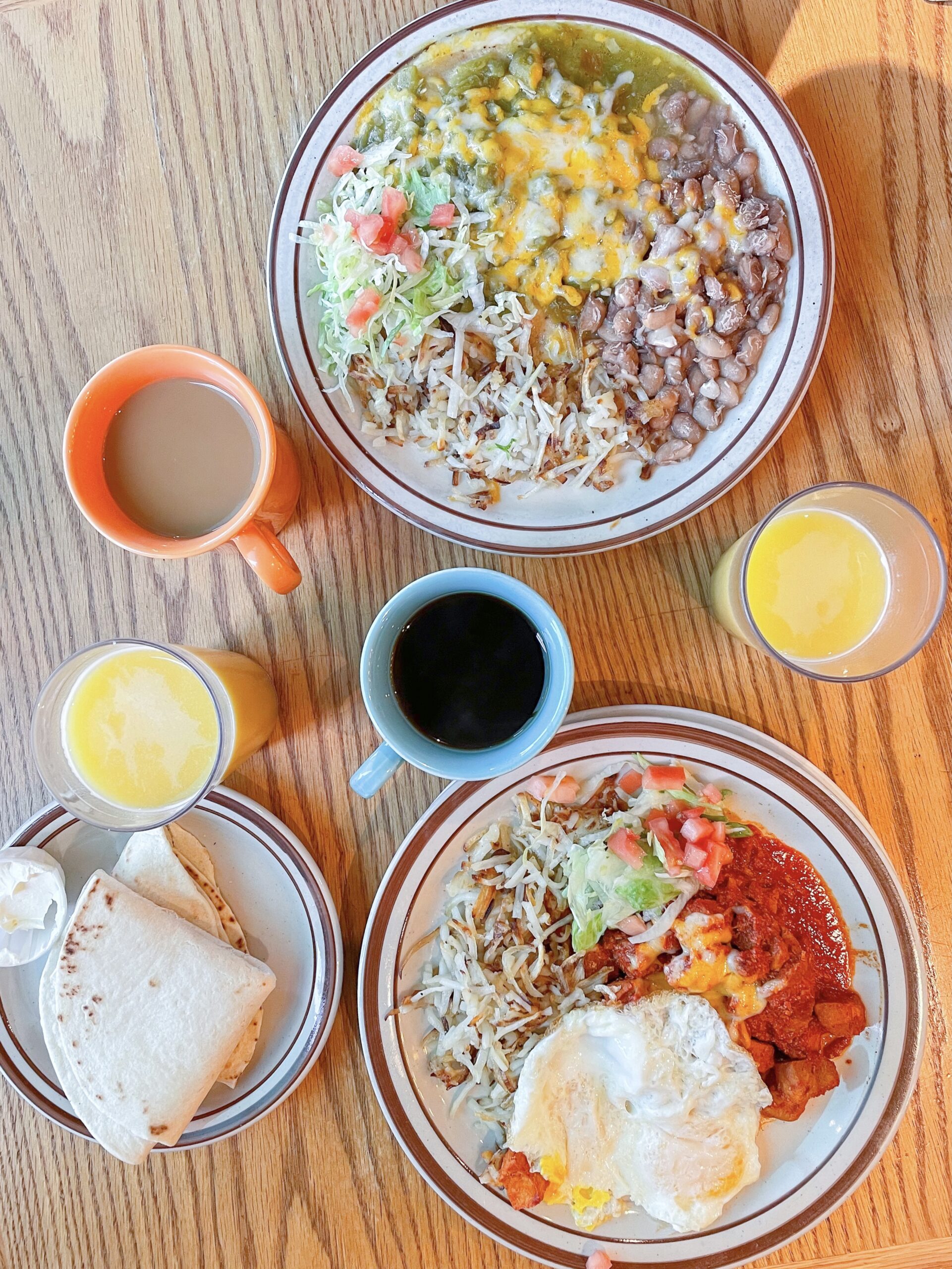 Maybe it's because I am from New Mexico, but I have to say that we have some of the best food ever! If you have never experienced a meal where at least one of your items is smothered in either red or green chile, you are missing out! I did a bit of research and crowdsourcing prior to our trip to make sure we ate at some highly recommended restaurants. Again, making sure that we ate at places that were kid friendly was a must, as Leo is still fairly inexperienced at sitting down at a restaurant.
Breakfast is always my favorite meal of the day and the breakfasts we ate did not disappoint. On Saturday we ate at Clafoutis, which is an amazing French bakery and restaurant. I had been here once before with friends, and knew it had to be included in our trip when we were planning our itinerary. My best piece of advice is to arrive as early as you can! They open at 7am, and when we arrived around 8:30am there was already a line forming. The food here is definitely worth the wait! On Sunday we ate at Atrisco Cafe for a traditional New Mexican breakfast (pictured above). Both the red and green chile was delicious, and it was the perfect family friendly spot! Both restaurants are a must visit during a weekend in Santa Fe.
As far as lunch and dinner, there were a few places that we just loved! Coyote Cafe & Cantina is a local staple, and we were excited to check out the rooftop cantina for dinner. They serve Southwestern inspired dishes, such as various taco plates, which were so good! If you eat there, don't leave without trying their caramel filled churros for dessert. I am always a fan of a good food truck, and on Saturday before going into Meow Wolf, we ordered food from Gracias Madre. Their tacos and quesadillas were super tasty, and made for the perfect lunch.
Things to Do (Kid friendly):
Meow Wolf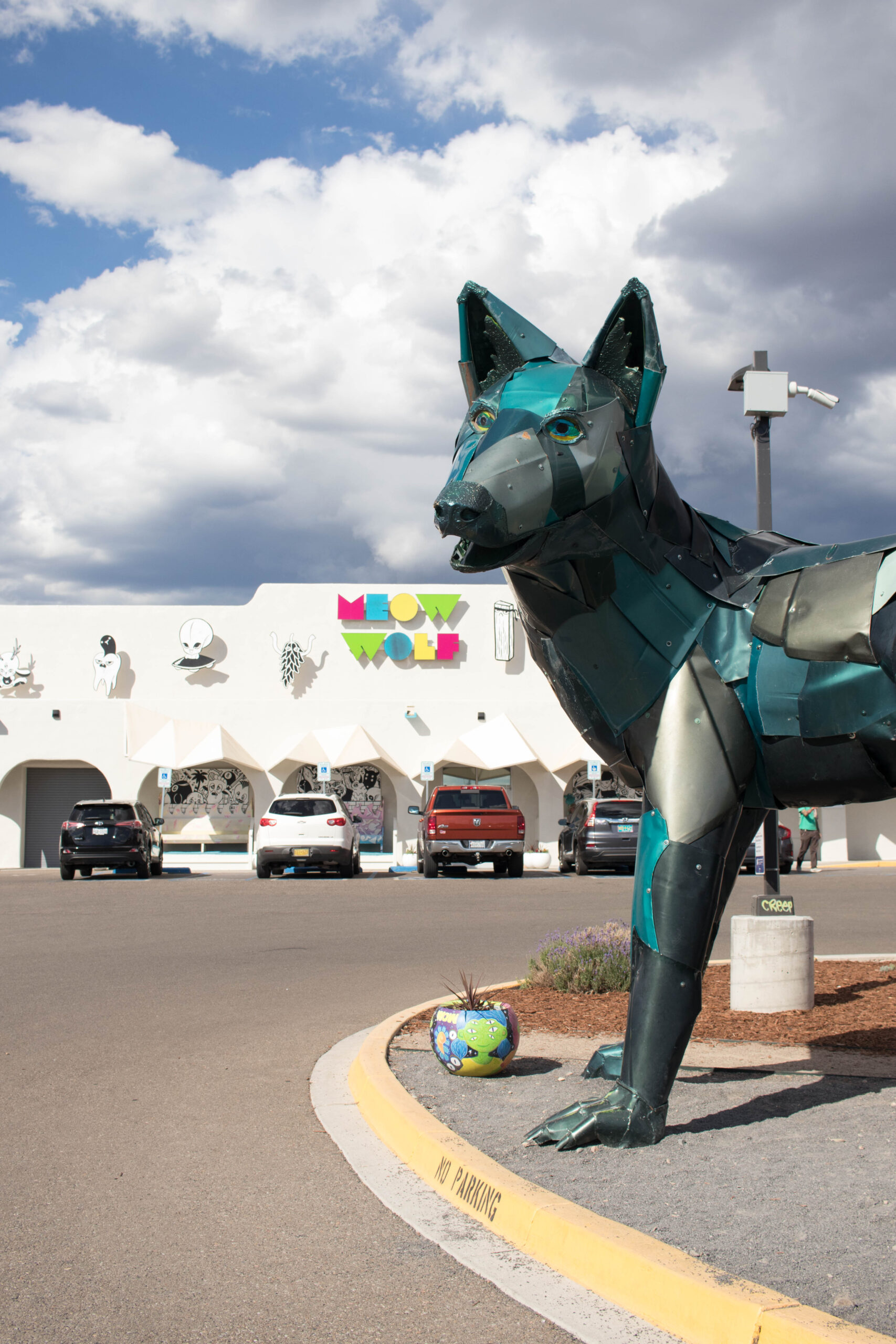 If you have been to Santa Fe, there is no doubt that you have heard of Meow Wolf. Although they have been open for years, I have never had the pleasure of checking it out. When we were planning our trip, it was definitely the first thing we added to our must do list! I was a little skeptical taking Leo, since he is not even two years old yet. Let's just say I should have trusted my mom intuition. Of course every child is different, but I do want to be transparent about the fact that Leo only made it about 30 minutes before he needed to go sit in the car with my husband. Meow Wolf as an experience was absolutely amazing. It's one of those places that is hard to describe to other people when they ask you what it is all about, but in the best way possible. Meow Wolf is something you have to experience for yourself to truly grasp how incredible it is. My only side note is that I personally would not recommend going with a child under the age of at least 5. Strollers are not allowed, which can make things difficult if your child wants to roam around. Harper is 6, and I think she was at the perfect age to really appreciate and enjoy the experience.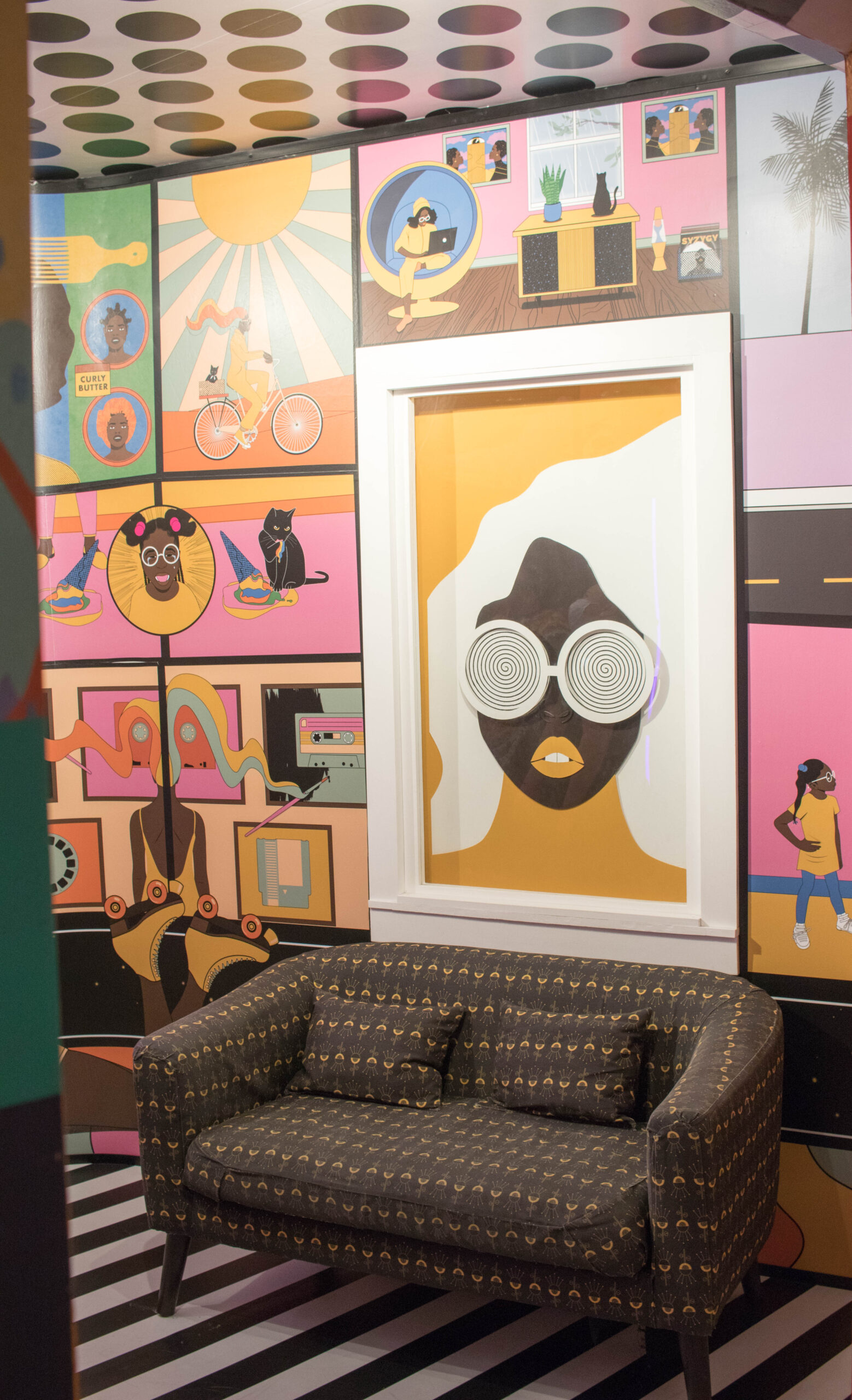 Santa Fe Railyard & Farmers' Market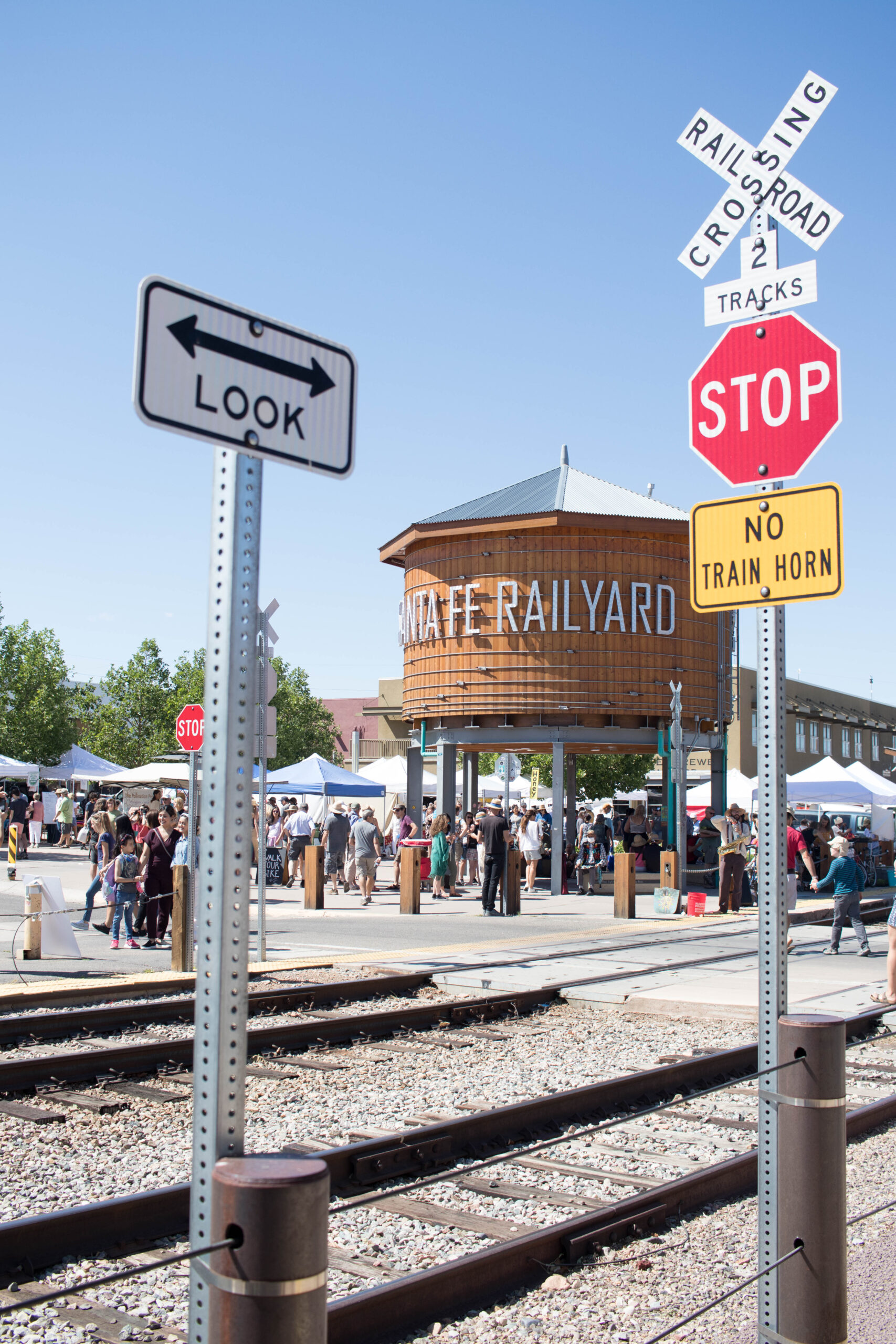 We love a good farmers' market, and the one in Santa Fe did not disappoint! The Santa Fe Farmers' Market takes place on Tuesdays and Saturdays from 7am to 1pm. They had a beautiful selection of local fruits, vegetables, flowers, art, and more. The location of the farmers' market is also a really fun location to check out if you have never been. The Santa Fe Railyard is full of great places to eat and drink, and check out some local art. I wish we were able to spend more time at the Railyard, but it is definitely on the to-do list for the next time we spend a weekend in Santa Fe!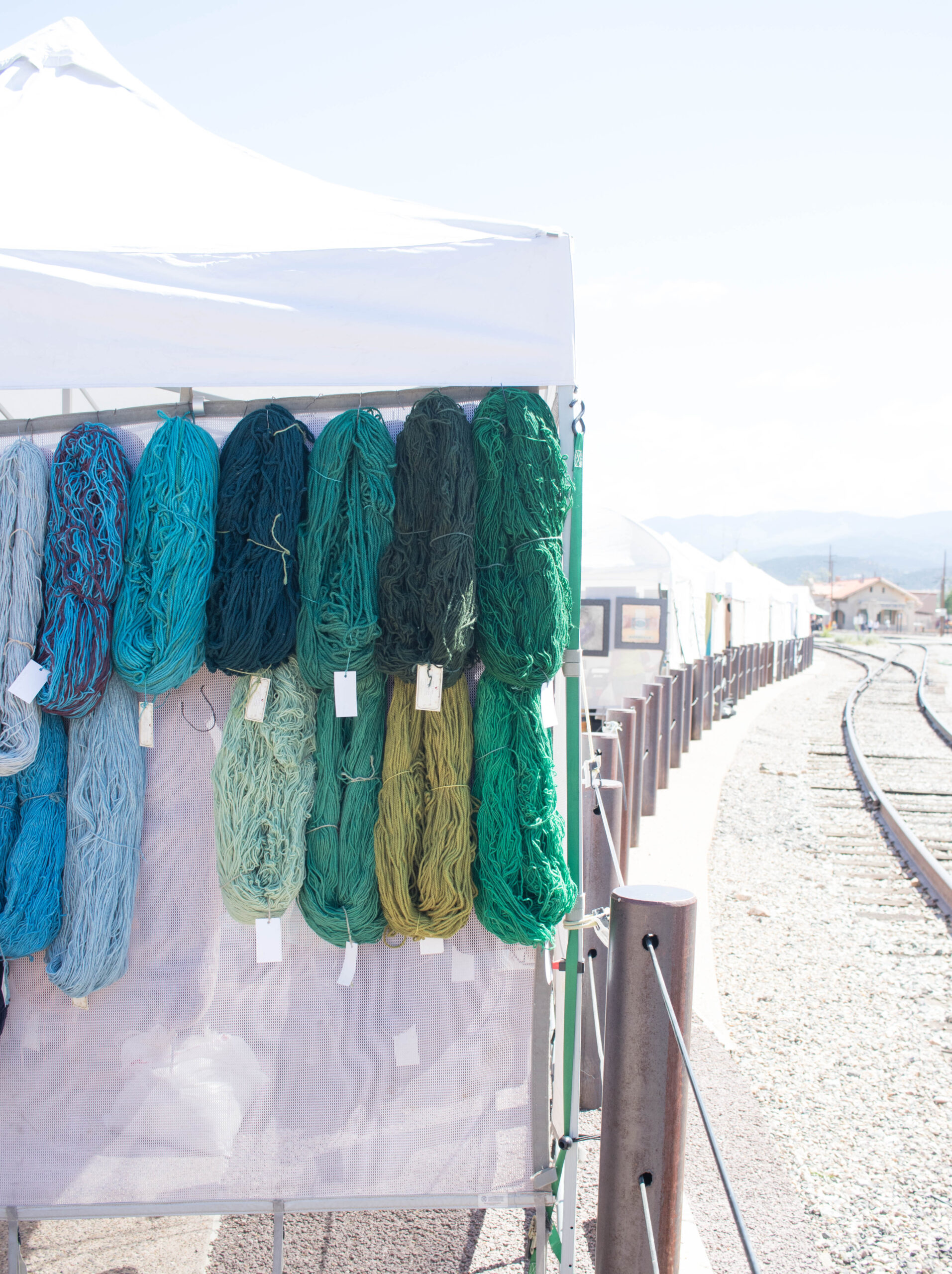 Nidah Spa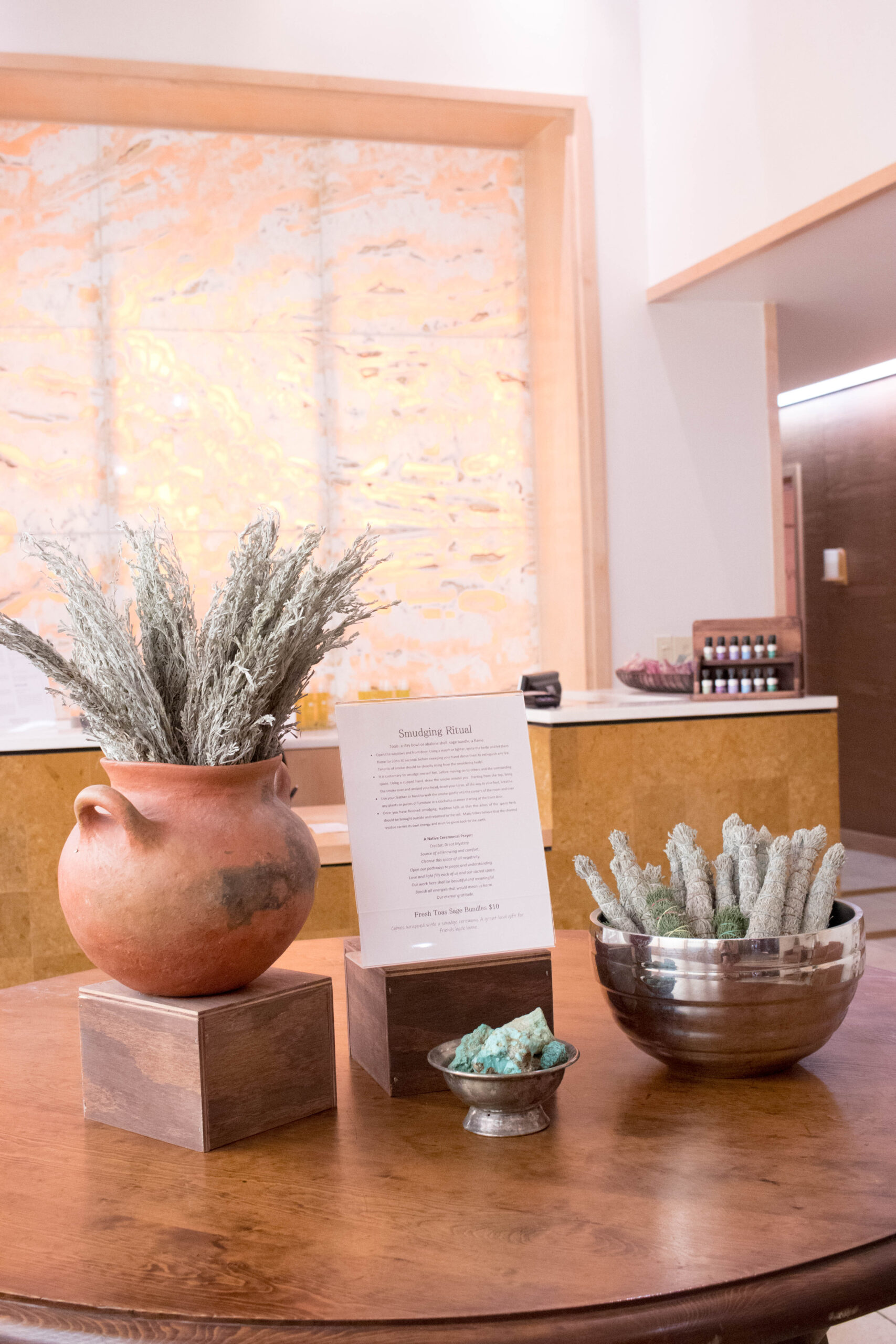 I was lucky enough to squeeze in a little me time while in Santa Fe. Since Leo still naps, I knew we would have a few hours of down time on Saturday. After learning that the hotel has a spa located inside, I knew I wanted to get some type of treatment. While the massages were booked for the times I was available, they did have an opening for a facial. Would you believe I have only had one facial in my entire life? My skin is super sensitive, so I have always been nervous to get them. Not anymore! It was such a relaxing experience, and my skin felt incredible after my 50 minute session. The esthetician was so knowledgeable and helpful in talking about my skin concerns. The spa itself is a beautiful space, and I hope to be able to return for a massage next time.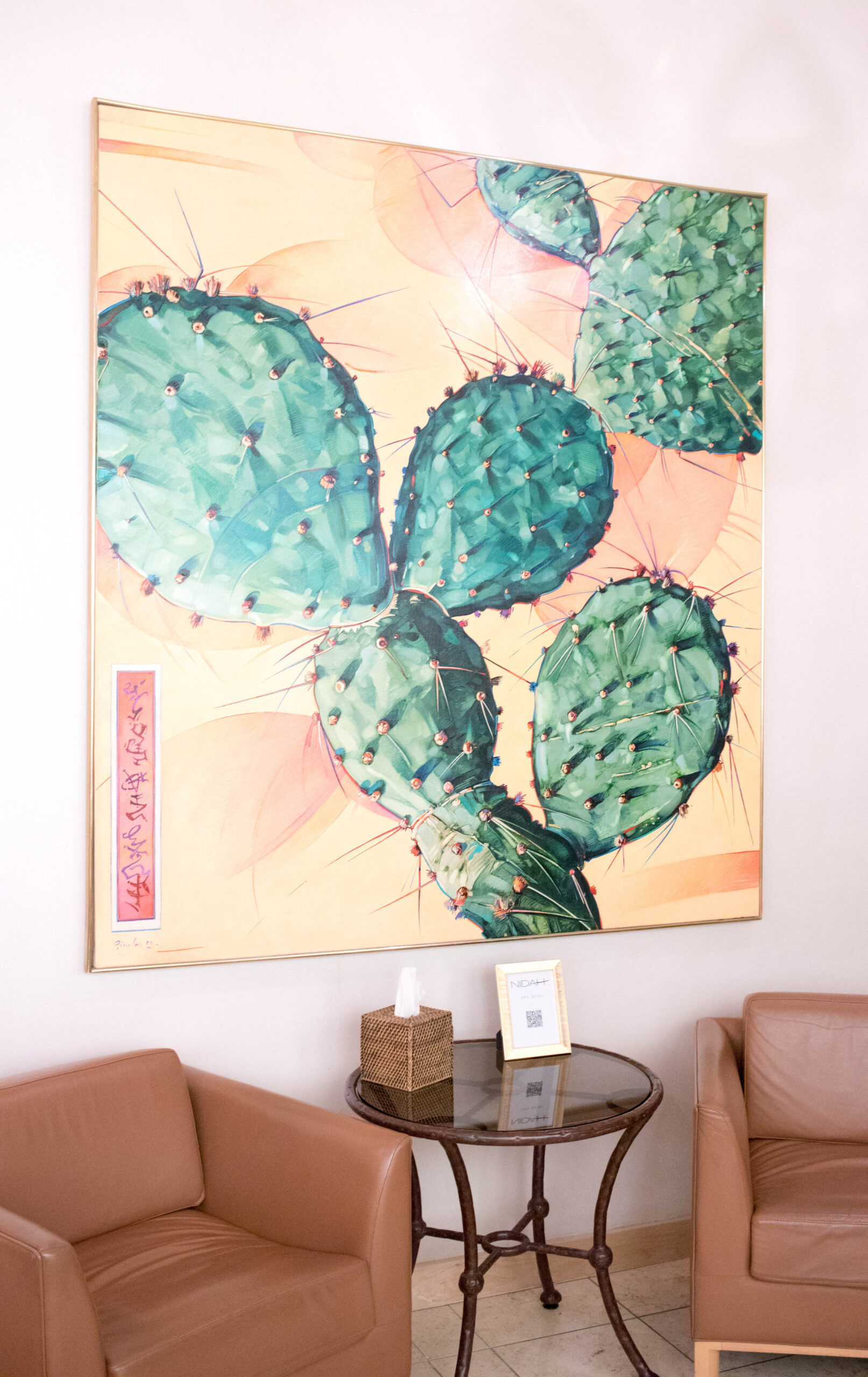 Shopping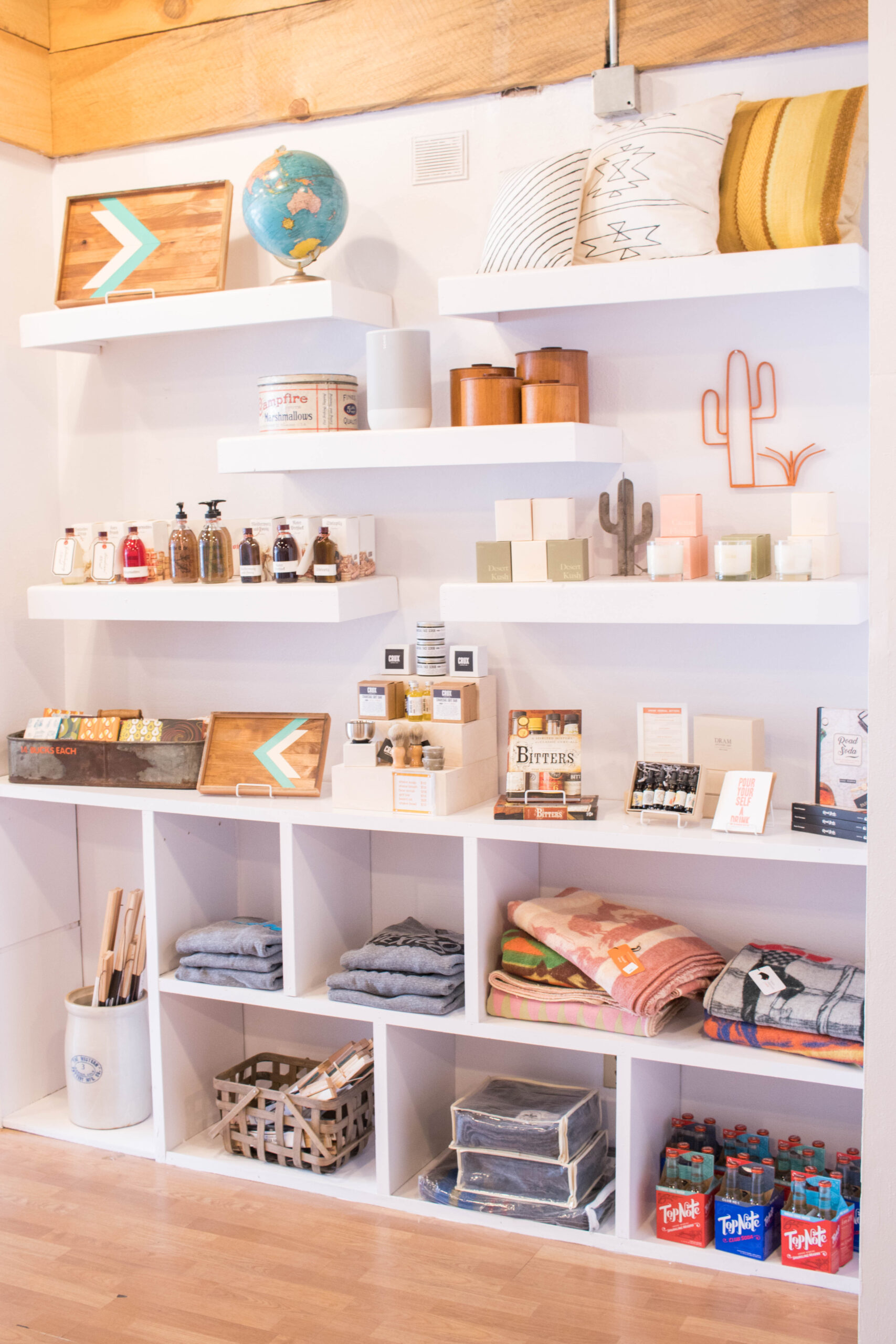 Of course we couldn't leave Santa Fe without doing a little bit of shopping. We took some time on Sunday before we left to browse a few shops that were in walking distance to the hotel. We stumbled upon Black Diamond Curio and I immediately fell in love. The aesthetic of the shop was right up my alley, and I love that they only carry locally made items. I picked up a few things, including the sweatshirt and necklace pictured below. If you follow me on Instagram (@lindsayrutland), you may also have seen the coolest print we picked up for Leo's room. I saved all of my stories from our Santa Fe trip to my highlights on my profile, so be sure to check those out!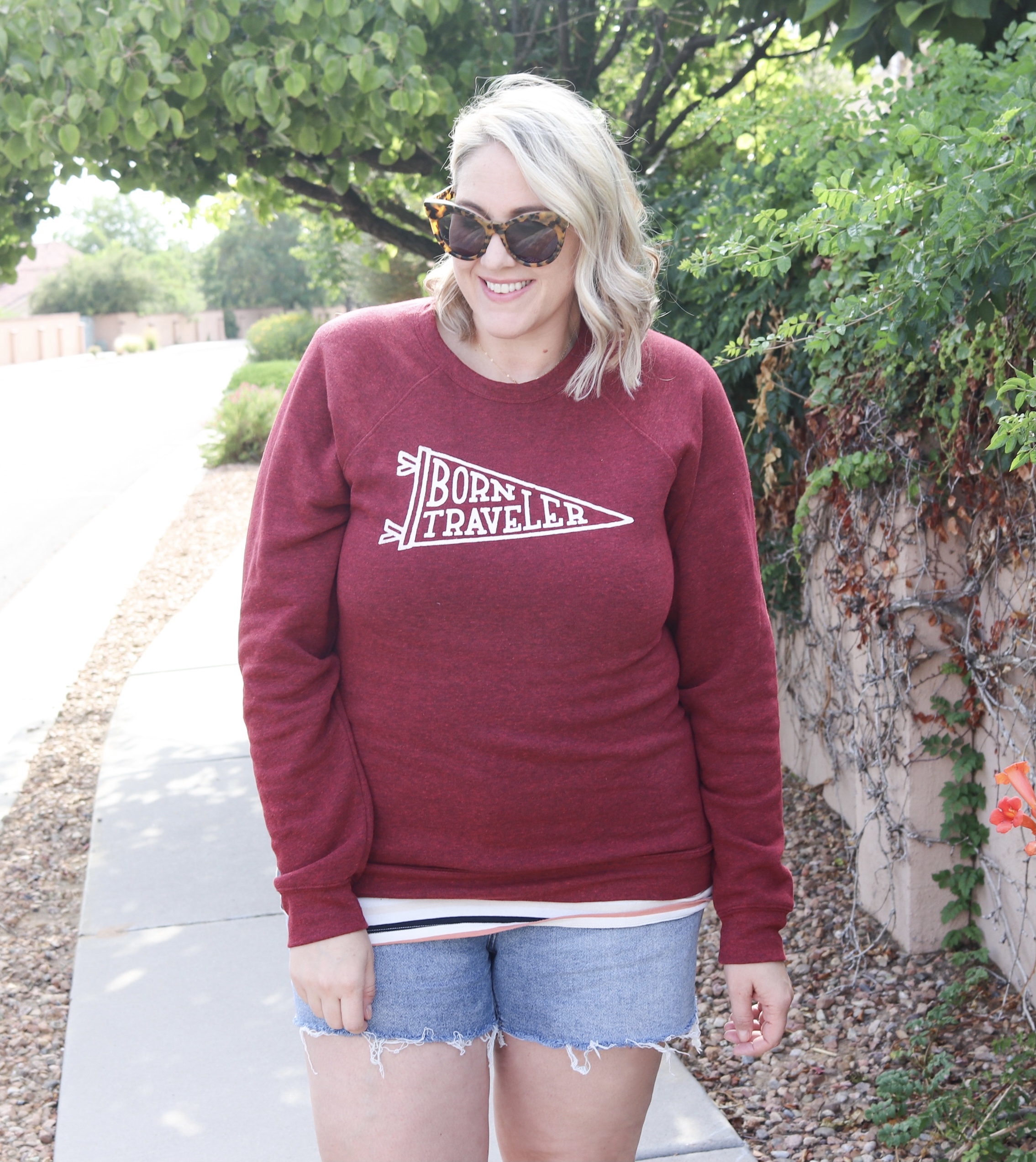 Have you ever spent a weekend in Santa Fe? I'd love to hear some of your favorite things to do and see in the city!