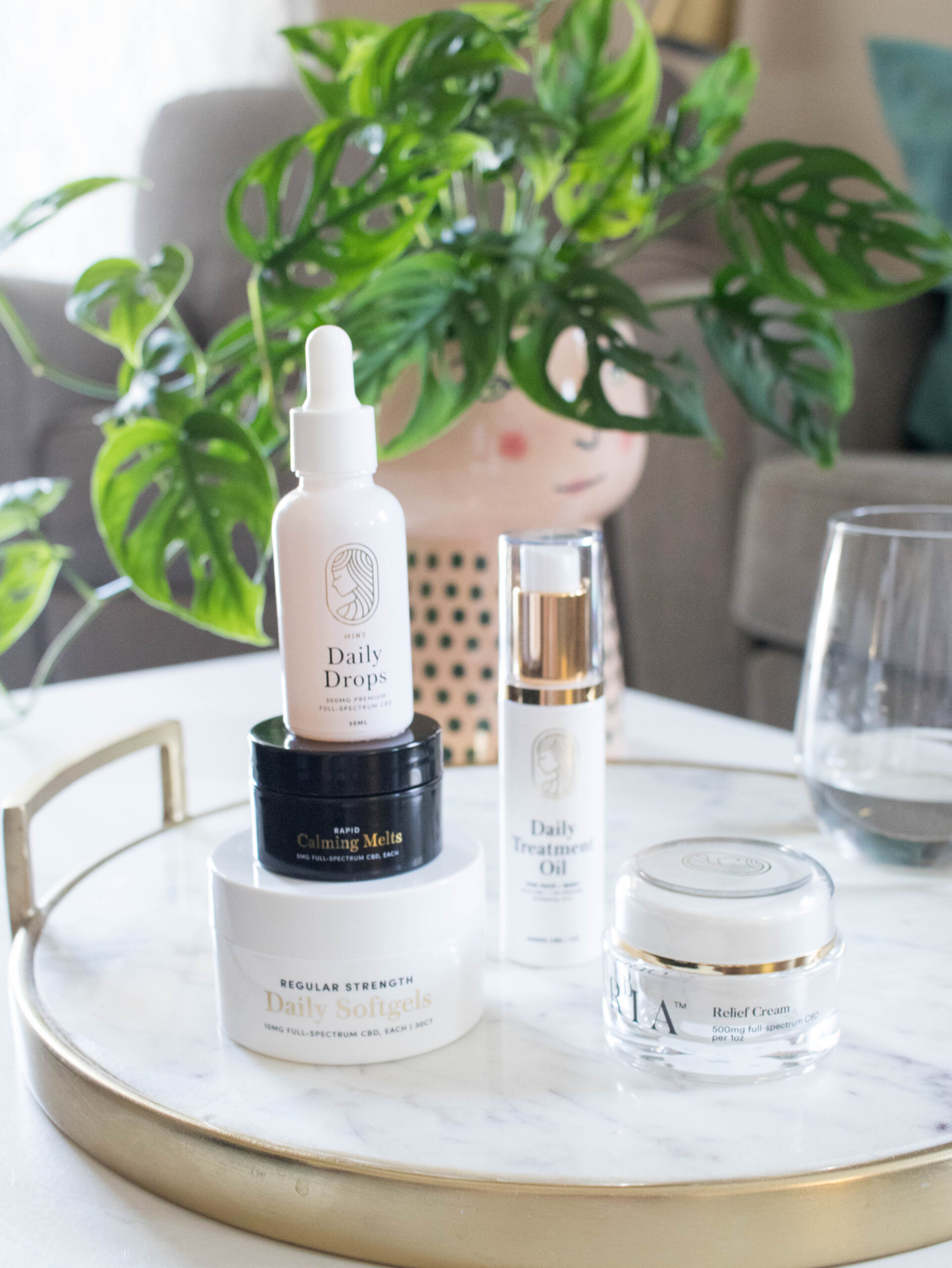 This post is sponsored by Equilibria. All thoughts and opinions are my own.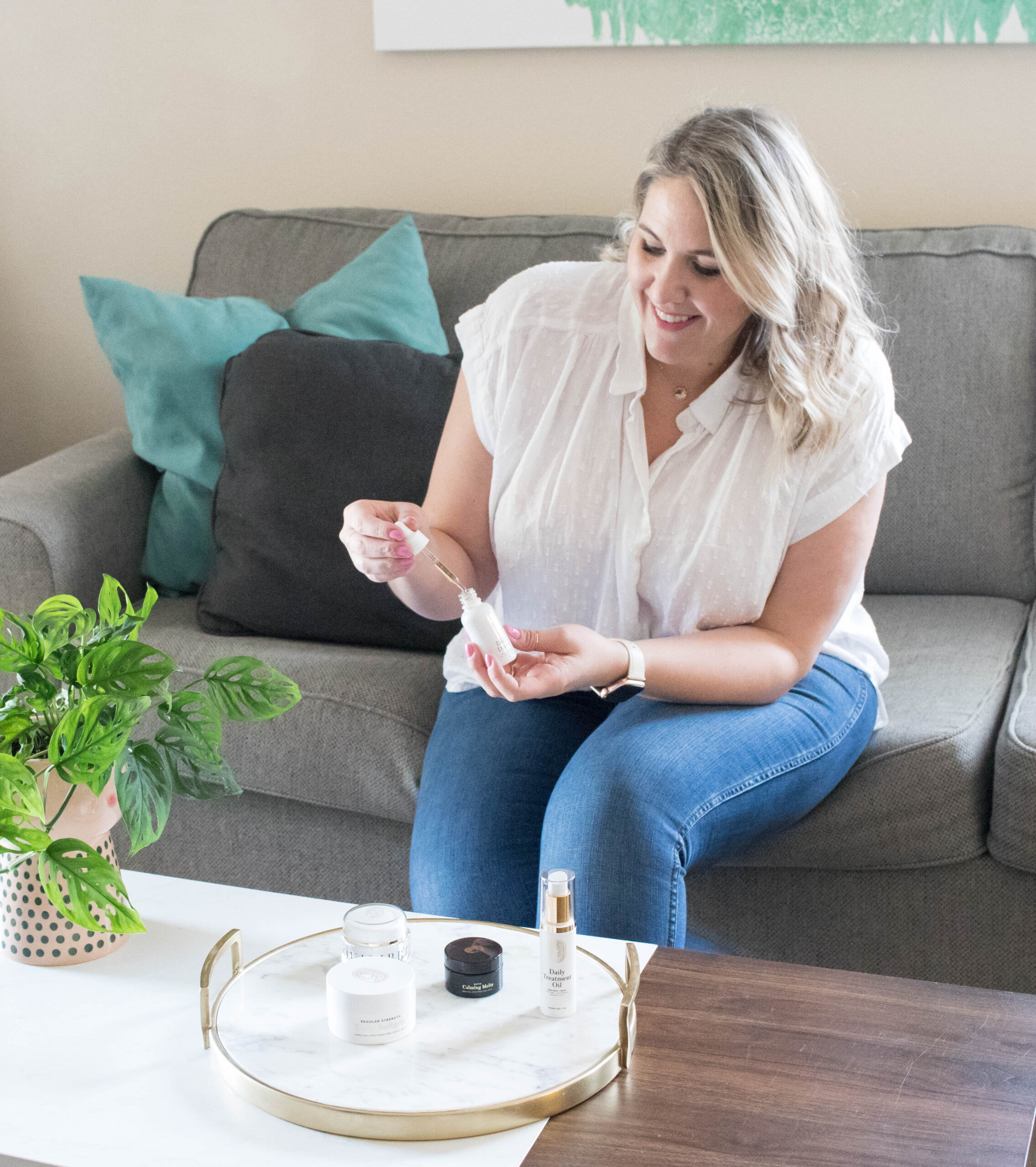 Let me just start off this post by saying being a parent is no joke. After having my second child, it felt like I was starting from scratch. Harper was 4.5 when Leo was born, and to be 100% honest, having a newborn again really threw my off my mom game. Enter 2020/a global pandemic when Leo was only about 6 months old, and I really turned into a bit of a mess. Needless to say, my stress and anxiety levels felt higher than it ever had before. I should note that have never been formally diagnosed with postpartum anxiety, but as someone who has been trained to diagnose mental health disorders (former independently licensed clinical therapist here), I know I would have absolutely qualified for a diagnosable disorder. 
Managing Postpartum Stress and Anxiety with Equilibria
Since I was breastfeeding Leo throughout 2020, I wasn't comfortable with taking anything to help manage my stress. Earlier this year, there was a shift for me and it felt like the appropriate time to look into my options. I knew it was time to get some help with managing postpartum stress and anxiety. I have successfully maintained a regular exercise routine for the first time in years, however it didn't seem to help as much as I had hoped it would.
I've seen a few of my favorite bloggers share Equilibria, and I was intrigued. I was also a bit skeptical and wondered if it was really worth the hype. After doing some research, I discovered that Equilibria is founded by women for women, which I love! They offer a variety of full-spectrum CBD products that are non-GMO. I figured I would try the products and see for myself if they could offer some relief.
I have been using both the Daily Softgels and Daily Drops for over 3 months now. The Daily Softgels have an onset of 1-3 hours and can last 6-8 hours. The Daily Drops provide more immediate relief, with an onset of 10-30 minutes and last 2-6 hours. In combination, I have noticed a significant shift in my mood. I am a lot less quick to react to stressful or frustrating situations, and feel myself having more patience when I typically would feel irritated and edgy. Also, when I wake up throughout the night, I can fall back to sleep a lot quicker than I was able to previously.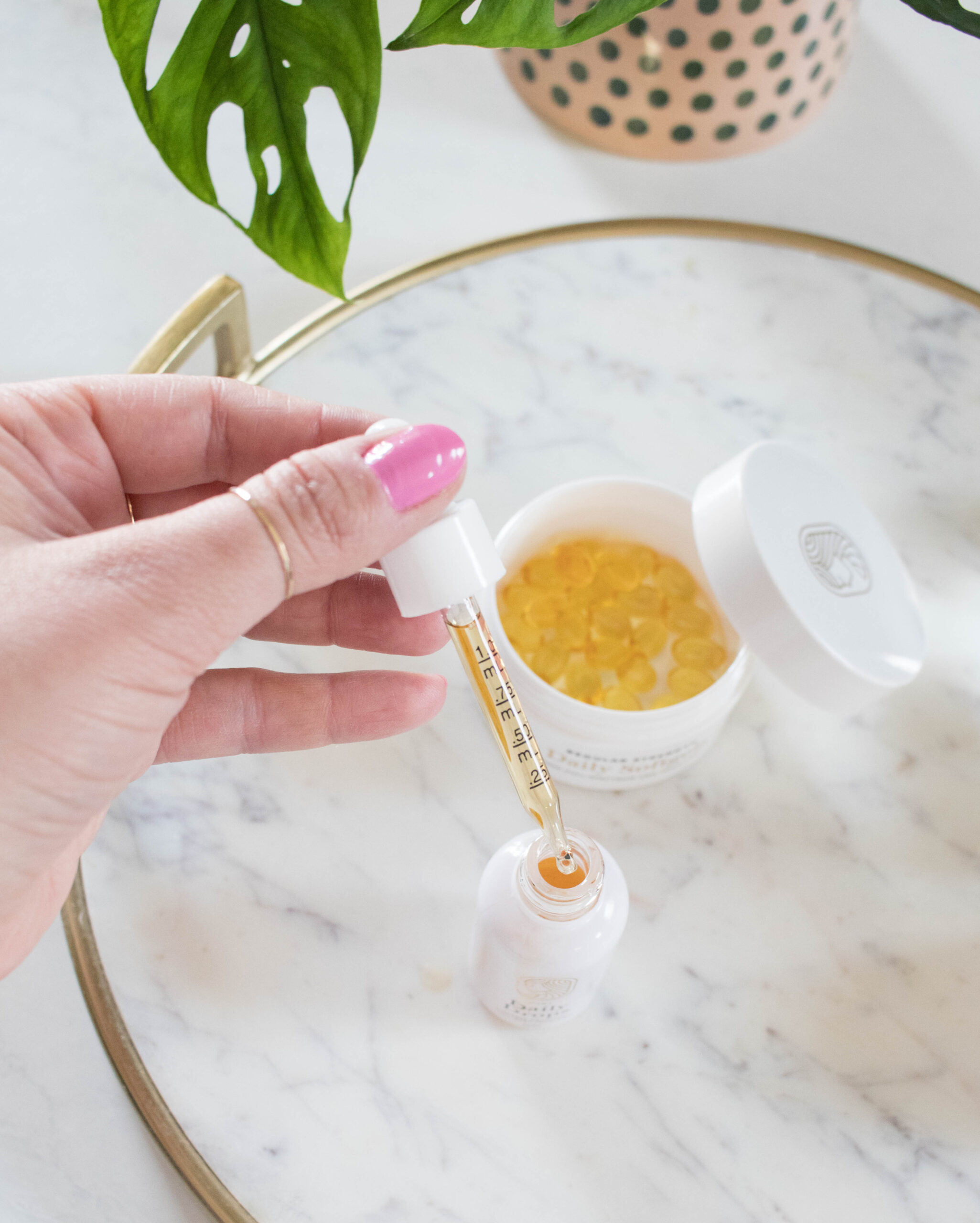 Here are a few things to keep in mind when starting your CBD journey:
There is no one-size-fits-all
Bottom line: we are all here for different reasons. Maybe you are looking for sleep support. Maybe you are like me and are looking for some help to manage your stress and anxiety. Whatever your reason, Equilibria ensures that you find the right combination of products to target your needs. One of the coolest things is that you will be paired with a Dosage Specialist after your first purchase. The Dosage Specialist will schedule a call to help you determine what your goals are and to adjust your routine as needed to see the greatest benefit.
Stick with a routine
The most important thing to remember when starting your CBD journey is that it builds up in your body over time. It may take 2-3 months for you to see the full benefit of the products. While I noticed a shift in my stress level and mood in about 2 weeks, every body is different. After a few weeks, my husband noted that I appeared less stressed and was less reactive to stressful situations. My routine has been the same since I started: 1 full dropper in the morning and 1 Daily Softgel in the evening. So far, it has been extremely helpful in managing postpartum stress and anxiety for me!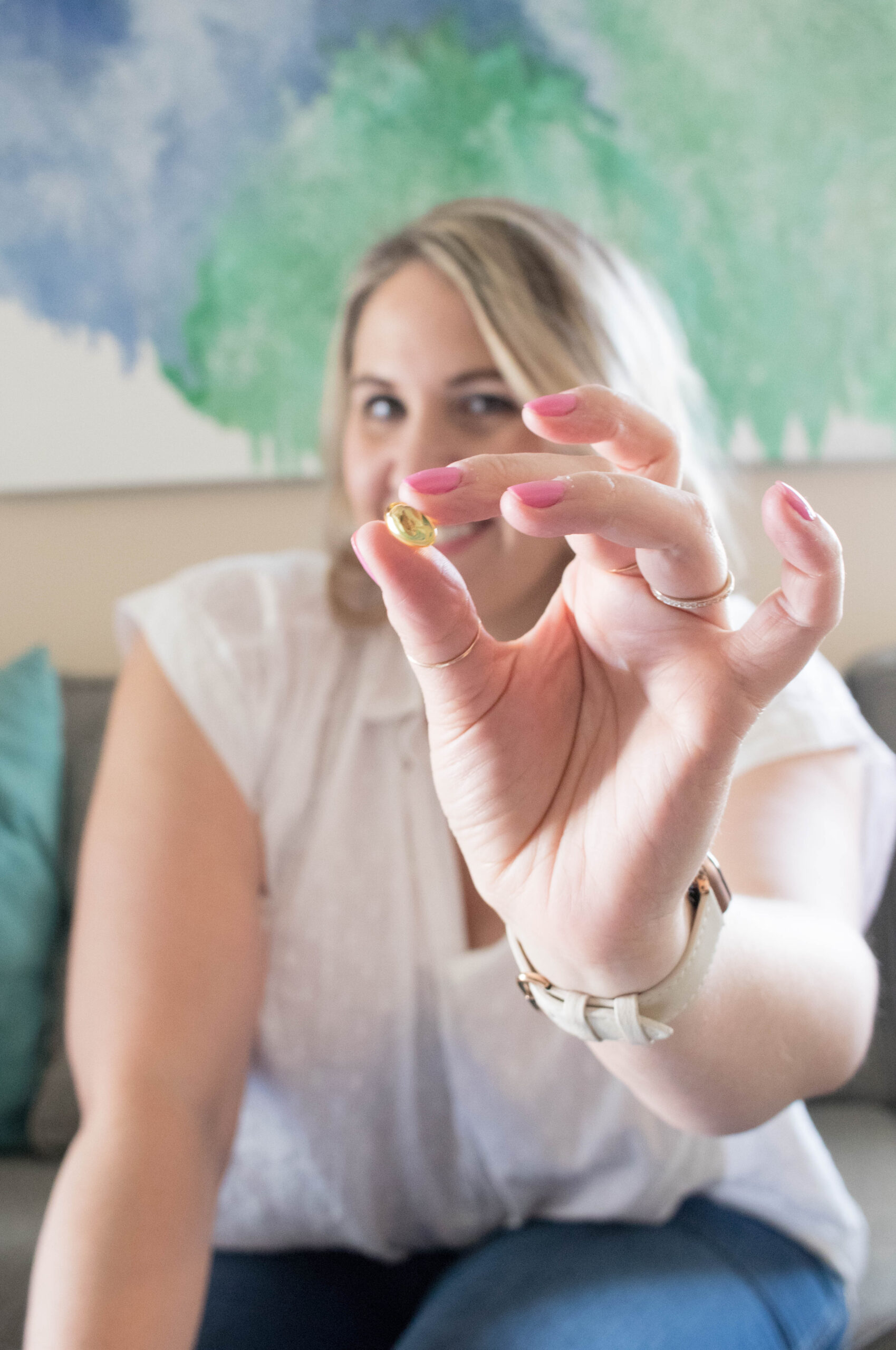 Additional Equilibria Products I Am Loving: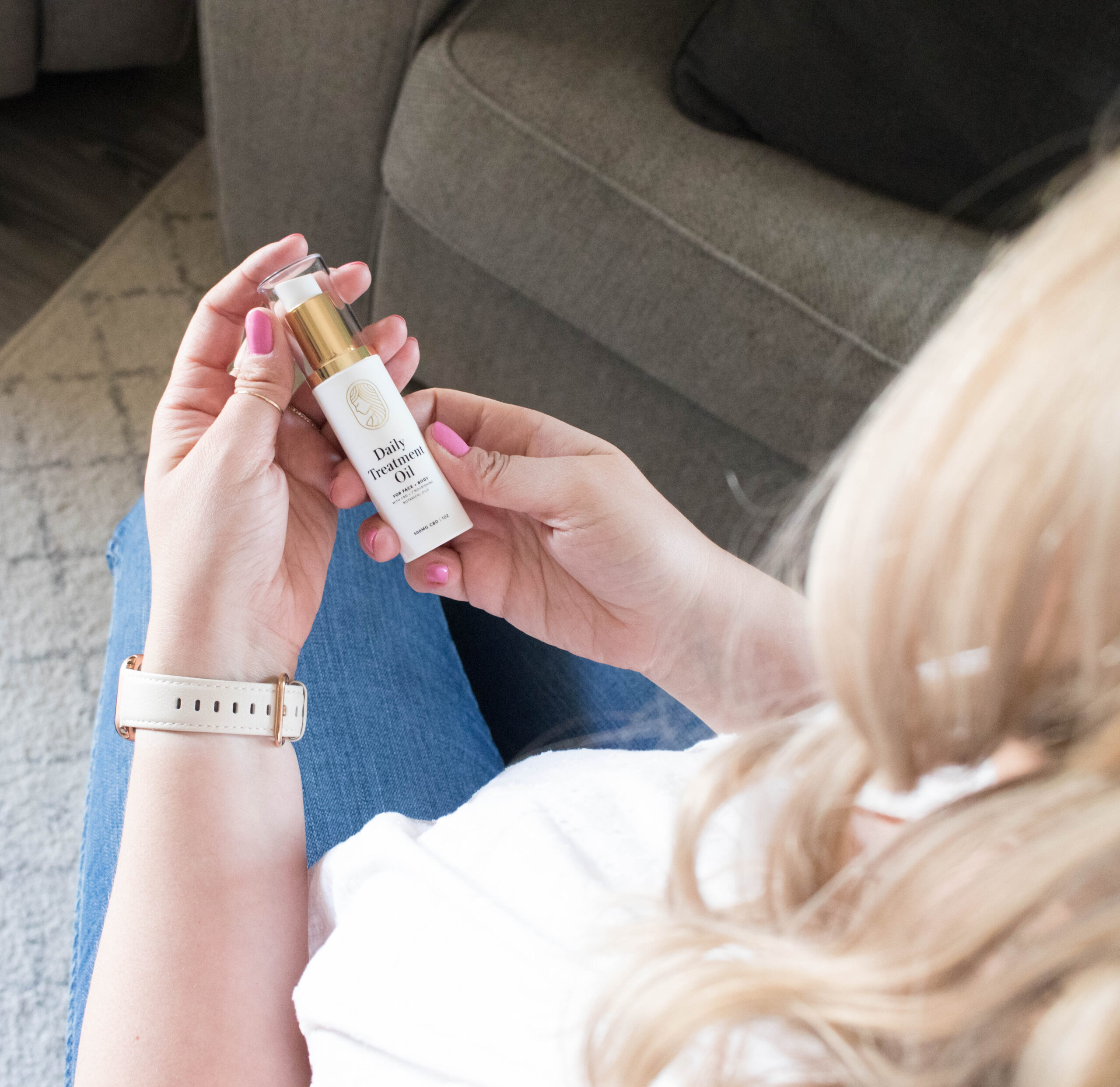 Daily Treatment Oil: I have been using this product for a few weeks now, and have really been enjoying it! I wouldn't consider myself to have dry skin, but can sometimes use a little boost. I currently use the oil every other evening by adding a few drops to my moisturizer. The following morning I always notice that my skin feels smoother and has such a nice glow to it!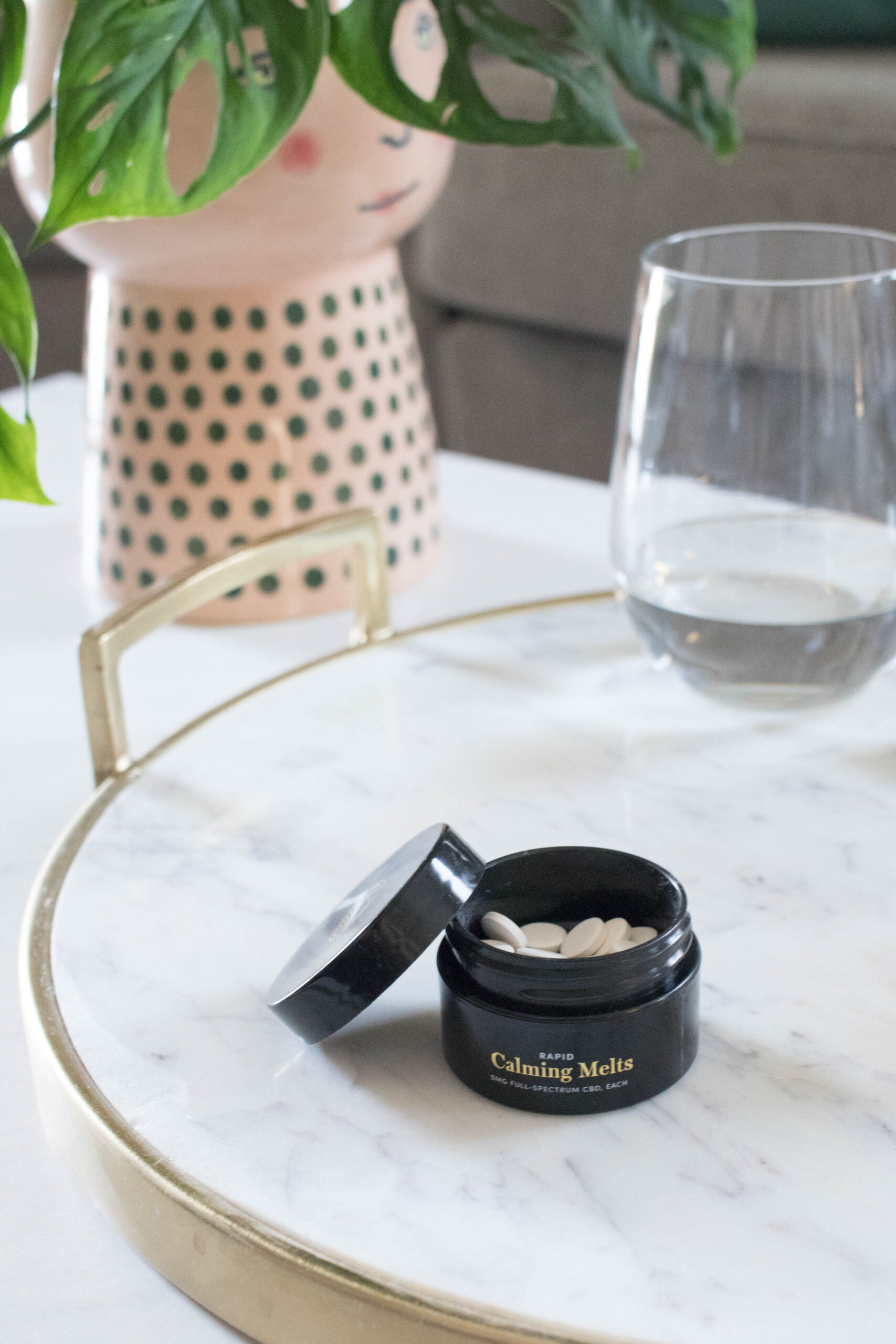 Rapid Calming Melts: These calming melts are packaged in a small, discrete container and are perfect to take on the go! I have taken the Rapid Calming Melts on particularly stressful days, or days when I am feeling super overwhelmed. You place one under your tongue and it dissolves in just a few minutes!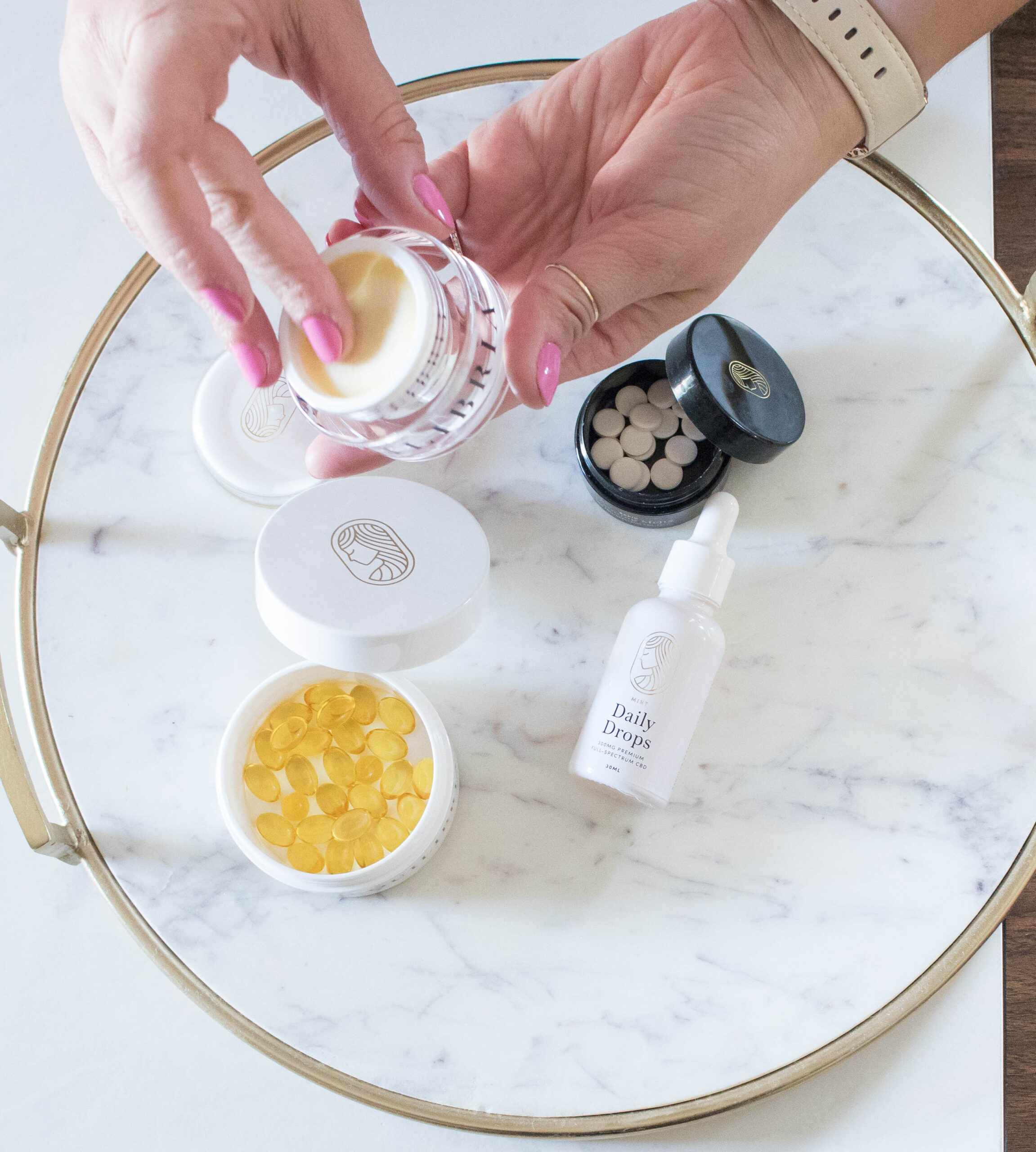 Relief Cream: Alright ladies, this product is a MAJOR game changer if you experience cramps. I never used to have them, however once again, after my second child, my monthly cramping is a struggle. The Relief Cream (now called Relief Balm) is also  great for targeting local discomfort, like sore joints and muscles! I love that you can use it as frequently as needed.
If you have ever considered taking CBD or not sure where to start, Equilibria just launched a great new way to help you get started with a CBD routine – a personalization quiz! This quiz is a great starter guide. Once you're ready to jump in, you can make either a one time purchase or subscribe and save 20% automatically. The subscription option is ideal, as you will never run out because a new box is shipped to you monthly.
Pin for Later: